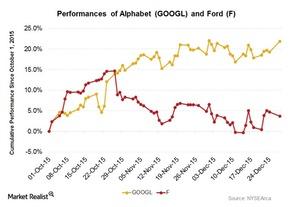 Alphabet and Ford Motor Might Partner in Self-Driving Cars
By Renee Blakely

Updated
Top stocks for SPY
Stocks at the top of the SPDR S&P 500 ETF (SPY) on December 28, 2015, were Alphabet (GOOGL), Southwestern Energy (SWN), and Nasdaq OMX Group (NDAQ). These stocks rose 2.1%, 2.1%, and 1.9%, respectively, that day.
The following graph illustrates the stock price movement of Alphabet (GOOGL) and Ford (F) since October 2015.
Alphabet (GOOGL) and Ford Motor (F) might be creating a joint venture to build self-driving cars. The partnership would have Google's technology to develop the automated driving technology, and Ford (F) would take care of the manufacturing aspect.
Article continues below advertisement
The beta values of Alphabet (GOOGL) and Ford Motor (F) are 1.08 and 1.03, respectively. Neither stock is very volatile. They move in tandem to the broad market movement. The trailing one-year return of GOOGL is 44.5%. GOOGL traded at $782.24, which was above its moving averages. The 100-day, 50-day, and 20-day moving averages of GOOGL are $705, $751, and $768, respectively. When compared to the analyst target price, the stock has an upward growth potential of 10%. The stock has earned 46 "buy," five "hold," and no "sell" recommendations.
Bottom stocks
Stocks at the bottom of SPY on December 28 were Denbury Resources (DNR), Freeport-McMoRan (FCX), and Navient (NAVI). These stocks yielded -11.7%, -9.5%, and -9.1%, respectively, on that day.
Denbury Resources (DNR) fell due to the decrease in oil prices. Freeport-McMoRan (FCX) fell due to the sell-off in the materials sector. Navient (NAVI) disclosed a reduction of almost 50% in its credit facilities. The maximum amount that can be borrowed from NAVI decreased from $10.7 billion to $5.0 billion. This was viewed as a liquidity crunch by many investors who sold off the stock in a panic, thereby leading to the fall in the stock's value.
For more on US equities, you can visit our US Equity ETFs page.