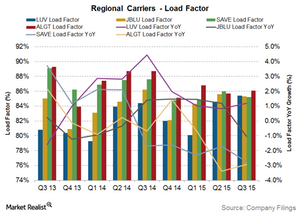 Aggressive Capacity Growth Subdued Utilization for SAVE and ALGT
By Ally Schmidt

Dec. 4 2020, Updated 10:53 a.m. ET
Snapshot
As we discussed previously in this series, the growth in demand for services of an airline is met by capacity expansion or by improved utilization of existing capacity. In this article, we'll look at how regional carriers fared in utilizing their capacities.
The efficiency, or utilization, of an airline's capacity is measured using the passenger load factor, which is calculated by dividing the traffic numbers by capacity numbers.
Article continues below advertisement
Aggressive expansion subdues load factor
Regional carriers such as Spirit Airlines (SAVE) and Allegiant Travel (ALGT) have been aggressively growing their capacity amid low oil prices. However, because their capacity growth has substantially outpaced the surge in traffic demand, these airlines have seen significant reductions in their load factors, or capacity utilization.
The load factor for Spirit Airlines fell by 1.9% to 84.8% for the year so far. The same ratio for Allegiant Travel dropped more steeply, by 3.3%, to 81%.
In contrast, other regional carriers saw better capacity utilization, as their capacity growth numbers have slowed, lagging behind traffic growth. Respectively, the load factors for Southwest Airlines (LUV) and JetBlue Airways (JBLU), improved by 1.3% and 0.6% to end at about 83% and 85%. JBLU forms ~1% of the iShares S&P Mid-Cap 400 Growth ETF (IJK).
Future outlook
As the industry worries about overcapacity concerns, the rate of capacity growth is expected to flatten in the coming months. This would result in better capacity utilization, or load factors, for the airlines. Also, December's peak holiday travel is expected to report packed flights, boosting utilization further.