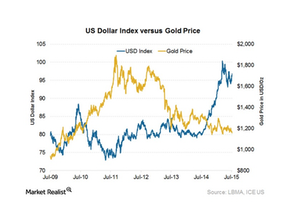 Aftermath of the Rate Hike: US Dollar Rose, Precious Metals Fell
By Meera Shawn

Updated
US dollar and interest rates
As the FOMC (Federal Reserve Open Market Committee) announced the interest rate hike on December 16, the price changes in the US dollar remained subdued. In general, investors didn't react much. However, on Thursday, December 17, it was a different scenario. The US dollar, precious metals, and stock markets reacted to the liftoff.
The SPDR S&P 500 ETF (SPY) fell by 1.5%. It described the equity market's downside rally. The global financial crisis seems to have a direct relationship with precious metals, especially gold. We saw gold rise aggressively after the 2008 crisis. It was likely due to the loosening of the economy.
Article continues below advertisement
As we know, interest rates and the US dollar have an almost inverse relationship with gold. The interest rate and the US dollar walk hand-in-hand. Higher rates attract money into the country. This pushes the currency to a higher value. The higher US dollar rate curbs the appeal of assets that are denominated in it. This leads to a fall—like we witnessed in gold on December 17.
DXY and the stocks
The US dollar, denoted by the DXY Currency, rose almost 1% to 99.30 on Thursday, December 17. It added gains of 9.6% on a YTD (year-to-date) basis. On the other hand, gold lost 2.5% on Thursday. It had a YTD loss of 11.3%.
Dollar-denominated assets like the Sprott Gold Miners ETF (SGDM) and the VanEck Vectors Gold Miners ETF (GDX) also had losses. They fell by 6.7% and 5.9%, respectively, on Thursday.
Companies that are dollar denominated and in the precious metal mining business also saw their prices fall due to the interest rate hike. The fall in the stock market and precious metals impacted US equities including Newmont Mining (NEM), Goldcorp (GG), and New Gold (NGD). They fell by 7.7%, 7.8%, and 7.8%, respectively, on Thursday. Together, these three stocks account for 15.1% to the price changes in GDX.