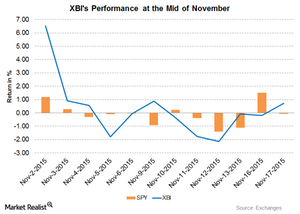 XBI Rises in Contrast to a Flat Market
By Peter Neil

Dec. 4 2020, Updated 10:52 a.m. ET
XBI rises in a flat market
The market remained flat on November 17, 2015. The Dow Jones Industrial Average rose just 0.05%. In contrast, the S&P 500 fell by 0.15%.
The biotech (biotechnology) sector moved in the opposite direction of the market. The SPDR S&P Biotech ETF (XBI) rose 0.75% on November 17, and the iShares Nasdaq Biotechnology ETF (IBB) rose 1.3%. In contrast, the broader market representative, the SPDR S&P 500 ETF (SPY), fell by 0.05%.
The market breadth for biotech stocks was positive. Out of XBI's 101 holdings, 70 stocks ended in the positive, while 31 stocks ended in the red. XBI closed at $68.65 on November 17 and was trading below its 50- and 100-day moving averages.
The above graph reflects the performance of XBI in comparison to SPY. Since the beginning of November 2015, XBI has returned 3.3%, while SPY has returned -1.2% in the same period. So far, XBI has outperformed SPY.
Article continues below advertisement
PTC Therapeutics gains 7.3% on high trading volumes
PTC Therapeutics (PTCT) rose 7.3% and was the top performer within XBI. The stock rose on high trading volumes, with ~1.3 million shares being traded compared to its five-day average trading volume of ~768,000 shares per day.
PTCT closed at $33.09 and was trading above its 50-day moving average but below its 100-day moving average. The RSI (relative strength index) of the stock is at 56, indicating that it is neither overbought nor oversold.
PTCT has a book value of $7.34 per share. With its current price, the stock is trading at a price-to-book value (or PBV) of 4.51x. PTCT will be presenting at the Stifel 2015 Healthcare Conference held on November 18, 2015. PTCT has a weight of 0.90% in XBI's portfolio.
Other stocks that performed well were bluebird bio (BLUE), Novavax (NVAX), and Incyte (INCY), which gave returns of 7.0%, 6.6%, and 5%, respectively.