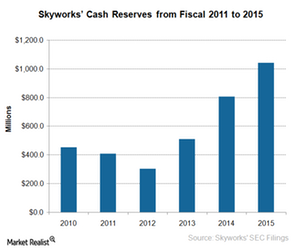 Was It Wise for Skyworks to Give Up on PMC-Sierra?
By Puja Tayal

Nov. 27 2015, Updated 10:06 p.m. ET
Skyworks gives up on PMC-Sierra
In the previous part of this series, we saw that Skyworks Solutions (SWKS) refused to revise its all-cash offer for PMC-Sierra (PMCS) after battling with Microsemi (MSCC) for almost 50 days. Skyworks had revised its bid twice, with the final offer valuing the deal at $2.2 billion, or $11.60 per share. But at $2.5 billion, the amount Microsemi is paying for the company, PMC-Sierra is no longer a financially sound acquisition for Skyworks.
Skyworks, in its press release, stated that "Skyworks maintains a highly disciplined approach to the assessment of potential acquisition candidates, and at an increased valuation, PMC no longer meets Skyworks' financial criteria."
Article continues below advertisement
Wise move by Skyworks
While many analysts did not expect Skyworks to give up so soon, they found the decision to be a wise one. It's a win-win deal for Skyworks as it escapes an expensive merger and gets a bonus of an $88.5 million termination fee from PMC-Sierra.
Skyworks' interest in PMC-Sierra was questioned by Wall Street investors as the two companies didn't share a complementary product portfolio nor did they share a common customer base. The only synergy arising from the merger was the reduction in cost that would have brought Skyworks combined annual savings of $75 million in the first year after the completion of the deal. The increased valuation of PMC would have offset some of these savings.
The 77% premium is higher than the Dialog Semiconductor and Atmel Corporation (ATML) merger premium of 43%. The average premium paid by buyers in similar semiconductor acquisitions over the past year is 19%.
Potential acquisition targets for Skyworks
The acquisition was part of Skyworks' plan to diversify its revenue streams. However, the company has several other diversification options, which may possibly be better valued.
According to CLSA's Wall Street analyst Srini Pajjuri, potential acquisition targets for Skyworks include Monolithic Power Systems, Semtech, Silicon Laboratories, MaxLinear, Mellanox Technologies, Inphi, and Integrated Device Technology. With a cash pool of $1.0 billion and a zero debt balance as of October 2, 2015, and now a termination fee of $88.5 million, the company is well positioned to undertake better-valued mergers.
Investors who would like diversified exposure to Skyworks can consider the SPDR S&P 500 ETF (SPY), which has 0.08% exposure to the company's stock.