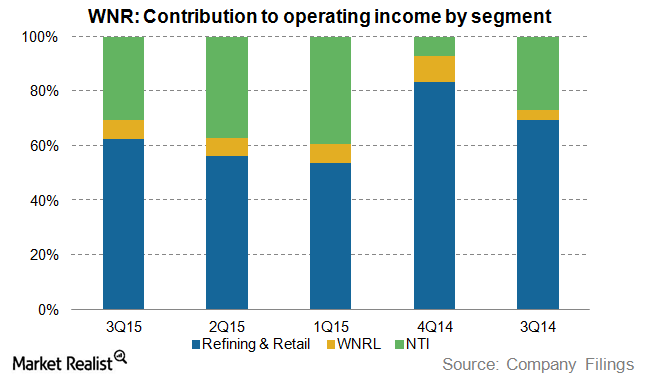 Will Western Refining's Strong Margins Continue?
By Vineet Kulkarni

Dec. 4 2020, Updated 10:53 a.m. ET
Strong refining margins to continue in 4Q15
Western recorded another strong quarter financially and operationally. It recorded the most profitable quarter ever in the retail segment. During the third quarter of 2015, fuel sales were up 2% and merchandise sales were up 4% compared to 3Q14. Western expects strong gasoline margins to continue in the fourth quarter of 2014.
Adjusted EBITDA (earnings before interest, tax, depreciation, and amortization) in the quarter was $425 million, of which $164 million was from Northern Tier and $28 million was from Western Refining Logistics.
Article continues below advertisement
Northern Tier and Western Logistics continue to post better performances
During the quarter, Western Refining received $42 million in distributions from Northern Tier (NTI) and $12 million from Western Refining Logistics (WNRL). Since WNRL's IPO and an investment in NTI, parent WNR has received $263 million in distributions. Northern Tier (NTI) is an independent downstream company, of which Western Refining owns 38%. The company operates in Minnesota and Wisconsin.
Western Refining holds potential acquisition opportunities for WNRL
With the latest TexNew Mex Pipeline acquisition, Western Refining Logistics is eyeing significant potential organic growth opportunities in the future too. A recently constructed 40-mile Bobcat crude oil (UCO) pipeline is another potential asset for Western's logistics segment. This Bobcat pipeline flows from Mason Station to Wink, Texas. Butane storage, crude oil (USO), and rail logistics in Jal/ Wingate, as well as pipelines from the Northern Tier, offer a pool of potential acquisition opportunities for WNRL.
These prospects, including the recent TexNew Mex Pipeline, are expected to contribute $125 million to $150 million annually to the company's EBITDA.
About Western Refining Logistics
Western Refining Logistics is a fee-based master limited partnership formed by Western Refining to own, operate, develop, and acquire terminals, storage tanks, and related businesses. WNRL's assets include ~675 miles of pipeline and ~8.2 million barrels of storage capacity and crude oil trucking. WNR, which owns 66.2% in WNRL, is a primary customer of WNRL for terminaling and storage activities. 33.8% of WNRL is publicly owned.