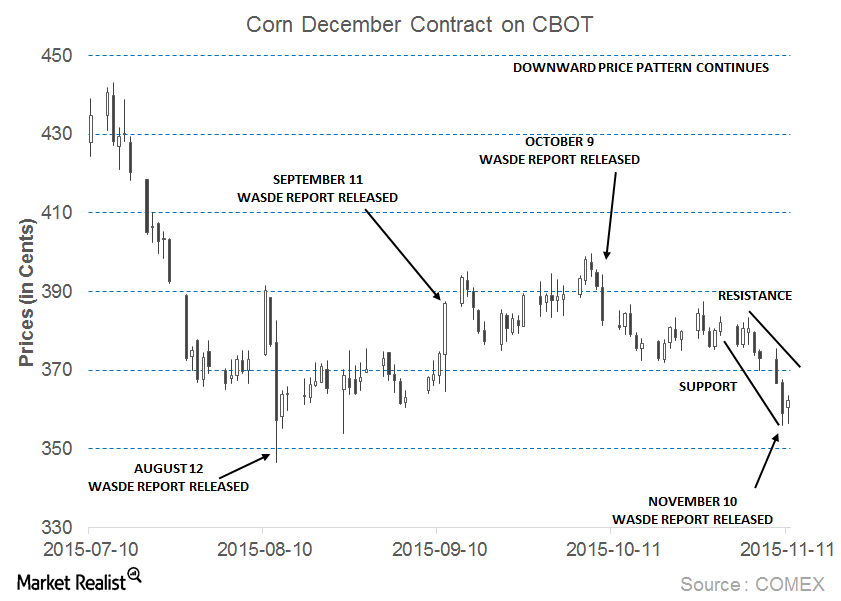 Will Weekly Export Sales Push Corn Prices Down?
By Sean Brown

Nov. 12 2015, Published 2:23 p.m. ET
Trend channel
Corn futures contracts for December delivery were trading below 365 cents per bushel on November 11, 2015. Corn futures prices opened higher than their November 10 closing prices due to the technical buyer rally from those who hoped to gain from lower price levels.
The technical buying rally supported corn prices significantly. However, open interest fell further by 5.1%, which indicates that the buying was speculative. The volume of corn futures contracts fell by ~40% on the day, as most speculative traders were out of the contracts.
Due to speculative trades on November 11, corn was able to bounce back from its September lows on the trend channel. However, corn may remain on a downward trend before strong demand-supportive news pulls prices up.
Article continues below advertisement
Corn price drivers
Technical buying and speculative trades on November 11, 2015, supported corn prices. Weak anticipation from the weekly ethanol production report, delayed due to Veteran's Day, also supported corn prices. Brazil's CONAB (Companhia Nacional de Abastecimento) reducing its corn output projections also helped corn prices.
The US dollar index performed better by 0.27%, which pushed corn prices down on November 11. Favorable weather conditions in central regions of Brazil and analysts' anticipations of output above CONAB's November report lowered corn prices. Potential precipitation in the corn belt may delay harvest and suppress the supply sentiment.
Corn is under heavy pressure of supply sentiment. Corn futures prices may remain between 355 and 370 cents per bushel.
Stocks review
Shares of Archer Daniels Midland (ADM) and Bunge (BG) continued to fall by 0.30% and 1.0%, respectively, for the fourth consecutive trading day on November 11, 2015. Tyson Foods (TSN) also continued its falling pattern by 1.0%, after a day's rise on November 11. ConAgra Foods (CAG) continued to fall for the second consecutive trading day by 0.63% on November 11.
The Power Shares DB Agriculture ETF (DBA) also rose by 1.0% on November 11, 2015, after five consecutive days of falling.