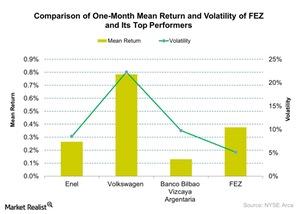 How Volkswagen Outperformed Banco Bilbao Vizcaya Argentaria
By Sarah Sands

Dec. 4 2020, Updated 10:53 a.m. ET
FEZ and its top performers
In the last month, the SPDR EURO STOXX 50 ETF's (FEZ) mean return was 0.37%. Its volatility was 5.1%, showing that it can fluctuate 5.1% above or below its mean return. FEZ's mean return-to-volatility ratio was 7.3%.
The graph above shows a comparison of FEZ's mean return and volatility with those of its top performers.
Volkswagen (VLKAY) had the highest mean return of 0.78% and the highest volatility of 22.2%. Volkswagen also had the highest mean return-to-volatility ratio of 3.5% as compared to other performers. The ratio shows the return earned per unit of total risk on a daily basis for the month.
Banco Bilbao Vizcaya Argentaria (BBVA) had the lowest mean return-to-volatility ratio at 1.3%. Thus, Volkswagen outperformed Banco Bilbao Vizcaya Argentaria.
Article continues below advertisement
Why did Banco Bilbao Vizcaya Argentaria's volatility rise?
Volatility shows the fluctuation in periodic returns from average returns. It's known as the total risk in a portfolio. The mean return shows the average daily return of the ETF.
Total risk can be of two different types. One is systematic, while the other is non-systematic. Non-systematic risk can be minimized by diversification, whereas systematic risk cannot be diversified. Systematic risk is measured by its beta. Volatility measures both systematic and non-systematic risk.
In the period from October 1–30, 2015, Banco Bilbao Vizcaya Argentaria's non-systematic risk rose. As a result of this, its total volatility rose to 9.7%. Its mean return was at 0.12%. Its non-systematic risk rose with the expectation of poor earnings growth in the third quarter.
Stocks with a weight of ~2%–3% in FEZ include SAP (SAP), Unilever (UN), Deutsche Telekom (DTEGY), Telefonica (TEF), and ING Groep (ING). These stocks provided individual returns of -1%, -2%, -0.01%, -0.12%, and -1.4%, respectively. Individual return refers to the stock's own return.
To learn more, read Global Turmoil Dragged Down Investor Sentiment as FEZ Fell.
In the next part, we'll analyze how Japanese equity performed on November 13, 2015.