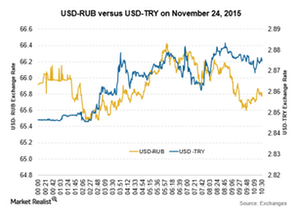 Turkey Shoots Down Russian Warplane, Sparking Global Market Turmoil
By David Meyer

Dec. 4 2020, Updated 10:53 a.m. ET
Turkey attacks Russian warplane
Global markets fell as Turkey shot down a Russian warplane near the Turkey-Syria border today. Turkish officials alleged that they repeatedly warned the jet to leave Turkish airspace. The tension in the Middle East is already high after ISIS (Islamic State of Iraq and Syria) claimed responsibility for the Paris attack.
Increasing political tensions, the Kremlin called the downing of the jet a serious concern while Russian President Vladimir Putin described the event as backstabbing and accused Turkey of financing ISIS. Turkey is a member of NATO (the North Atlantic Treaty Organization), making the United States and Europe its military allies.
Article continues below advertisement
Pressure on Russian and Turkish markets
The Turkish lira extended its fall against the US dollar today (November 24, 2015) as equity markets collapsed. The lira has been performing badly. The disagreement between the United States and Russia weighed on the Russian ruble on November 23, 2015, as the currency dropped 1.8% versus the US dollar. We can't rule out the potential for a further fall in the ruble and the lira if geopolitical tensions between their two countries escalate. The news comes as global economies have been facing demand slowdowns and currency risk as speculations increase for a rate hike by the US Federal Reserve in December.
Impact on the market
Following the downing of the Russian warplane, the iShares MSCI Russia Capped ETF (ERUS) was trading on a negative note, down 1.47% on November 24. The iShares MSCI Turkey ETF (TUR) fell 5.0%.
Looking at the American depository receipts (or ADRs) trading in the United States, we see that Turkcell Iletisim Hizmetleri (TKC) fell 6.0%. The negative trend was also evident in Russian ADRs, as Mobile TeleSystems (MBT) fell by 0.78%. Petroleum-linked stocks rose as concerns spread over rising tensions due to Syria, leading to a rise in oil prices. Chevron (CVX) was trading 2.3% higher.