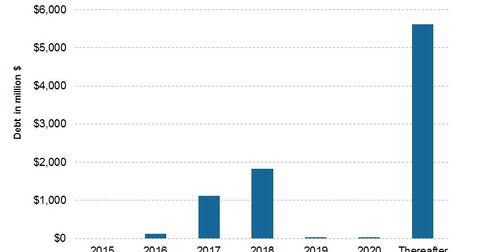 Transocean's Debt Profile and Reasons for Its Credit Downgrade
By Sue Goodridge

Updated
Liquidity
Transocean (RIG) has a current ratio of 2.68, which tells us the company's current assets far exceed its current liabilities. The company will not have any problem repaying its short-term liabilities. In this part of the series, we'll analyze the company's long-term liabilities.
Article continues below advertisement
Debt repayment
Transocean (RIG) redeemed senior notes due in November with a cash payment of $904 million in July 2015. The company also repurchased $292 million of debt at a cost of $272 million during the third quarter. The debt repurchased is mostly scheduled to mature over the next three years.
Debt profile
As of September 2015, Transocean had a total debt of $8.7 billion on its books. Out of this, only $123 million is in the form of short-term debt. The remaining $8.6 billion is in the form of long-term debt. Of the total debt, the company needs to pay less than 1%, or $116 million in 2016. In 2017 and 2018, the company needs to pay a significant 52%, which amounts to $2.9 billion.
Credit rating: Downgrade
The company doesn't need to worry about its 2016 debt maturities, but its 2017 and 2018 maturities can be a cause of concern. In October 2015, Moody's downgraded Transocean's debt to Ba2 over the uncertainty about future earnings power, sizable debt maturities, and large capital spending commitments beyond 2017.
Moody's also gave a "negative" outlook for the company. According to Moody's, the company could be further downgraded if its debt-to-EBITDA (earnings before interest, taxes, depreciation, and amortization) ratio rises above 6x on a sustained basis.
Below are the credit ratings for other offshore drillers (IYE):