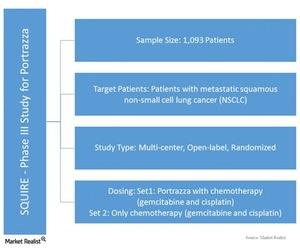 Squire Study Supports Portrazza's Approval
By Mike Benson

Dec. 4 2020, Updated 10:53 a.m. ET
Portrazza approval
Eli Lilly's oncology drug (LLY) Portrazza, a recombinant human IgG1 monoclonal antibody that blocks the ligand binding site of EGFR1 (epidermal growth factor receptor), has been approved by the FDA for the treatment of squamous non-small cell lung cancer (or NSCLC).
Article continues below advertisement
Details about the Squire study  
The FDA approved Portrazza for the treatment of squamous NSCLC based on the results of a phase III study named Squire. The phase III study evaluated the improvement in overall survival of patients with squamous NSCLC. The study was conducted at 184 locations in 26 countries, with 1,093 patients who were suffering from stage IV squamous NSCLC. The patients were given either Portrazza in combination with gemcitabine and cisplatin, or only gemcitabine and cisplatin chemotherapy. Patients in both sets were given a maximum of six cycles of chemotherapy.
A median overall survival time of 11.5 months was observed in patients treated with Portrazza, while the median overall survival time was 9.9 months for patients treated with only chemotherapy.
The side effects observed included cardiopulmonary arrest and hypomagnesemia. Cardiopulmonary arrest or sudden death was reported in 15 patients, or ~3%, of the 538 patients treated with Portrazza, while it was reported in only three patients, or ~0.6% of the 541 patients treated without Portrazza. Hypomagnesemia was observed in 83% of the 538 patients treated with Portrazza in comparison to 70% of patients treated without Portrazza. Both side effects are indicated as boxed warnings.
Other drugs in the oncology field include Pfizer's (PFE) Inlyta and Sutent, Bristol-Myers Squibb's (BMY) Opdivo, Merck's (MRK) Keytruda, GlaxoSmithKline's (GSK) Mekinist and Tafinlar, and Roche's Zelboraf.
To diversify risk, investors can consider ETFs like the iShares US Healthcare Providers ETF (IHF) or the iShares US Pharmaceuticals ETF (IHE). IHE holds ~6.2% of its total investments in Eli Lilly.