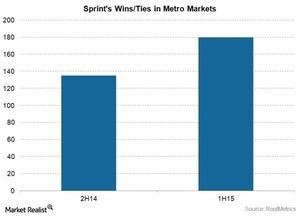 Sprint's Performance in RootMetrics Metro Results in 2H15
By Ray Sheffer

Nov. 29 2015, Updated 6:05 p.m. ET
RootMetrics metro results in 2H15
According to Sprint's (S) press release on November 18, 2015, "RootMetrics is recognizing Sprint for substantial improvements in overall, reliability, speed, data, call, and/or text network performance."
Sprint received 108 RootMetrics awards, all either won or shared, in metros spanning 67 markets during the July to October period in 2015. In addition, during the July to December period in 2014, the comparable figure for Sprint was 70 awards.
Article continues below advertisement
RootMetrics metro results in 1H15
Based on RootMetrics results, overall, Sprint received 180 awards in different categories spanning 125 metro markets during 1H15. Verizon (VZ) had the highest number of awards at 512. AT&T (T) followed Verizon with 441 awards. Meanwhile, T-Mobile (TMUS) received 221 awards.
In 2H14, Sprint received 135 RootMetrics awards in the metro markets. Meanwhile, Verizon, AT&T, and T-Mobile received 537, 388, and 201 awards, respectively, during the period.
Now let's look at the categories in which Sprint received the RootMetrics metro awards during 1H15. Based on these results, Sprint received seven awards in overall network performance.
In the network reliability and speed metrics, Sprint received 30 and four awards, respectively, for the period. Meanwhile, in the call and text performance metrics, Sprint received 61 and 77 awards, respectively. However, in data performance, Sprint received only one award in the 1H15 results.
Instead of taking direct exposure to Sprint's stock, you may consider taking diversified exposure to the telecommunication company by investing in the iShares US Telecommunications ETF (IYZ).
The ETF had ~3.5% of its holdings in Sprint at the end of September 2015.