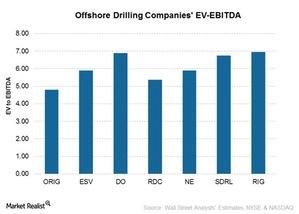 Seadrill's EV/EBITDA Is Higher than Its Peers: Will It Fall?
By Sue Goodridge

Nov. 2 2015, Published 10:28 a.m. ET
EV/EBITDA
Offshore drilling (OIH) companies are cyclical and volatile in nature because they are capital-intensive and have high levels of depreciation and amortization. These companies also have varying degrees of financial leverage, making some look better valued than others in peer comparisons when using their enterprise multiples, or EV/EBITDA (enterprise value to earnings before interest, tax, depreciation, and amortization).
Article continues below advertisement
Valuation multiple driver
A company's forward EV/EBITDA reflects what investors are willing to pay for the next four quarters of estimated EBITDA. In the offshore drilling industry, we believe that it reflects the perceived risk of investing in offshore drilling companies, as well as investors' expectations for the industry's outlook.
Comparing multiple with peers
Seadrill's (SDRL) current valuation multiple as of October 28, 2015, is 6.95x, which puts it on the higher side compared to most of its peers. Seadrill's peers are trading at the following EV/EBITDAs:
As we previously discussed in this series, analysts appear to be overly optimistic in their estimations of Seadrill's future EBITDA. If the company fails to match the analysts' EBITDA estimates, it could weigh negatively on the company's stock price. The market values Seadrill on the higher side based on its EBITDA in comparison to its peers.
Seadrill is already highly leveraged and the company may need to resort to additional debt financing for its newbuilds. This would increase the financial risk of the company. Increasing debt in this downturn may not be good for Seadrill's investors. With these risks, we may see valuation multiples contracting for Seadrill.