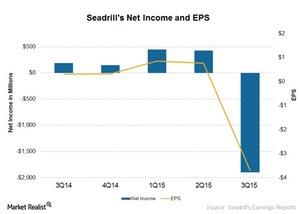 Seadrill Reported a $1.9 Billion Loss Due to Impaiment
By Sue Goodridge

Updated
Net income
Seadrill (SDRL) reported a net loss of $1.9 billion in fiscal 3Q15—compared to a $190 million profit in the same period last year and $423 million in the previous quarter. For the nine months ending in September 2015, the loss was $1.0 billion—compared to a profit of $2.1 billion for the same period last year. In fiscal 3Q15, the loss was mainly due to impairment charges. Excluding the impairment charges, the company's adjusted net income was $104 million.
Article continues below advertisement
EPS
Seadrill's EPS (earnings per share) was negative $3.7 in fiscal 3Q15 compared to an EPS of $0.77 in fiscal 2Q15 and $0.31 in 3Q14. The adjusted EPS for fiscal 3Q15 was $0.4.
Impairment
The company recognized $1.8 billion of non-cash impairment charges during the third quarter. The impairment charges were related to its goodwill and investments in Seadrill Partners (SDLP) and Sapura Kencane.
Seadrill Partners – Since October 2014, Seadrill Partners' share price fell from $30 to $9.4 as of September 30. The company determined that this was "other than temporary" in nature. As a result, the company recognized a non-cash impairment charge of $1.1 billion.
Sapura Kencana – The company also recognized an "other than temporary impairment" of marketable securities held in Sapura Kencana. This resulted in a non-cash impairment charge of $167 million.
Goodwill – The company stated that due to the deteriorating environment and continued market uncertainty, it performed an impairment test on Goodwill. This resulted in a non-cash impairment charge of $563 million related to its floater business. Now, the company doesn't have any goodwill on its balance sheet.
Impact on the book value
Due to the impairment, the company's book value fell. Seadrill's PBV (price-to-book value) ratio fell to 0.31x from 0.49x in the last quarter. Other offshore drillers (IYE) have the following PBV ratios:
Investors should keep in mind that offshore drilling companies are better valued using the EV/EBITDA (enterprise value to earnings before interest, tax, depreciation, and amortization). In this series, we'll see Seadrill's valuation based on the EV/EBITDA multiple.