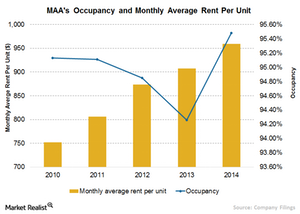 Why Have Rising Occupancy Levels and Rent Boded Well for MAA?
By Peter Barnes

Updated
What is occupancy rate?
Occupancy rate is the number of units rented out to residents by the company in proportion to the company's total number of units in the community. Average occupancy is calculated by dividing the number of units occupied at each property by the total number of units at each property. The higher the occupancy rate, the higher the income for the company. All apartment REITs, including AvalonBay Communities (AVB), Equity Residential (EQR), and UDR (UDR), strive to maintain higher occupancy levels. The iShares US Real Estate ETF (IYR) invests 0.78% of its portfolio in MAA (MAA).
Article continues below advertisement
Occupancy and rental rates are affected by the number of competitive apartment communities in that particular area. The overbuilding of new apartments or an oversupply of available apartments in a market might adversely affect a company's occupancy or rental rates. Such cases may require rent concessions by the company in order to lease apartments to residents.
Higher occupancy levels
MAA's (MAA) operating strategy includes maintaining high occupancy levels to sustain its growth momentum. Its average occupancy rate has remained at an elevated level over the past few years. In 2010, the average occupancy rate was 95.1%, and it declined to 94.9% in 2012. However, it improved to 95.5% in 2014. The average physical occupancy for 3Q15 was at 96.6%, a record high for the company.
In 2014, Florida witnessed the highest occupancy rate in the company's portfolio, with 96.6%. It was followed by Kentucky at 95.7%, Arizona at 95.7%, Texas at 95.6%, and Georgia at 95.6%.
Average rent per unit
The monthly  average rent per unit represents the average of gross monthly rent amounts charged for occupied units in addition to prevalent market rents asked for unoccupied units in the property, divided by the total number of units in the property. MAA's monthly average rent per unit has experienced healthy growth during the past five years. It grew from $751.70 in 2010 to $958.90 in 2014. Rising average rent per unit bodes well for the company as it directly contributes to higher revenue. We'll discuss MAA's revenue growth in the next article.