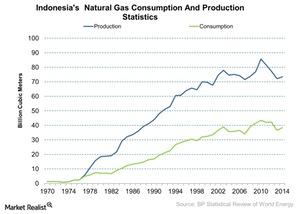 A Review of Proven Oil and Gas Reserves for Indonesia and Others
By Rabindra Samanta

Updated
Proven oil reserves
As per the BP statistical review of the world's proven oil reserves until 2014, Indonesia (EIDO) had 3,700 million barrels. OPEC[1. Organization of the Petroleum Exporting Countries] had around 1,216,000 million barrels of proved reserves. The United States (SPY) and Russia (RSX) have 48,500 million and 103,200 million barrels, respectively, in oil reserves. This outlines the importance of OPEC in meeting future oil requirements. Saudi Arabia has about 261,000 million barrels of oil reserves or about 20% of OPEC's proven oil reserves.
Article continues below advertisement
Proven gas reserves
The report put Indonesia's proven gas reserves at 2.9 trillion cubic meters until 2014. Gas is also a vital part of the world's energy requirements. In comparison, Saudi Arabia has 8.2 trillion cubic meters of proven gas reserves. The line chart above shows the consumption and production of gas of Indonesia.
Indonesia consumed 38.4 billion cubic meters of gas while it produced 73.4 billion cubic meters of gas in 2014 though the country is a net importer of oil but a net exporter of gas. US energy companies such as ExxonMobil (XOM) and Chevron (CVX) operate with a production mix of 46% and 33%, respectively, in natural gas. The Russian energy giant Gazprom Pao (OGZPY) has 85% of production mix in natural gas. Canadian energy companies Imperial Oil (IMO) and Suncor Energy (SU) operate with a production mix of 10% and 0.5%, respectively, in natural gas.