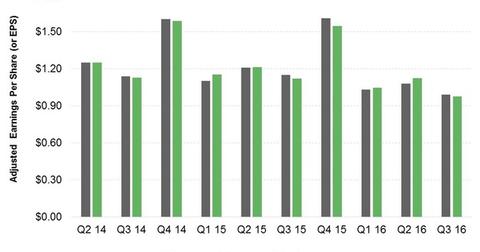 Why Walmart Beat Wall Street and Updated Guidance
By Phalguni Soni

Updated
Walmart delivers an earnings beat in fiscal 3Q16
Walmart (WMT), the world's largest retailer, released its earnings for fiscal 3Q16 on November 17, 2015, before the market opened. The third quarter ended on October 31, 2015, for fiscal year ending January 31, 2016. The company beat Wall Street analyst expectations on earnings but came in slightly short on revenue for the quarter.
Earnings performance
Walmart's adjusted EPS (earnings per share) came in at $0.99 in 3Q16, down 13.9% year-over-year. The Wall Street analyst consensus had estimated $0.98. The decline in EPS was primarily due to higher wages and training costs, a $0.10 negative impact, and partly due to adverse forex (foreign exchange) movements, a $0.04 negative impact.
Target (TGT), which declared third quarter earnings on November 18, 2015, was in line with consensus Wall Street estimates, with adjusted EPS at $0.86.
Costco (COST), whose fiscal year ended on August 30, 2015, clocked adjusted EPS of $1.73 in 4Q15, beating market consensus of $1.66.
We'll provide a detailed analysis of the quarter's earnings drivers for Walmart and Target over the course of this series.
Raised outlook for mass merchandisers
Capping off the better-than-expected results, Walmart also raised the lower end of its guidance for fiscal 2016, releasing a more positive picture than originally thought. About a month ago, Walmart's stock fell drastically following the company's weaker-than-expected earnings outlook in the next two years. However, the stock market's reaction to Walmart's fiscal 3Q16 earnings was positive, with shares rising 3.5% to $59.92 on November 17.
Target also raised the lower end of its full-year guidance. However, it wasn't enough to stop its share price from falling 4.3% on November 18.
Walmart, Costco, and Target make up 1.1% of the portfolio holdings of the SPDR S&P 500 ETF (SPY). Walmart and Costco make up 9.6% of the holdings of the Consumer Staples Select Sector SPDR ETF (XLP).
You can read about the key takeaways from Walmart's 22nd Annual Meeting in our series A Walmart Investor Update: 3-Year Earnings and Growth Outlook.