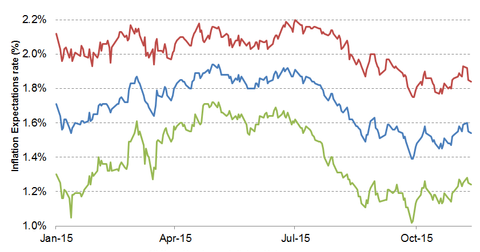 All That Glitters: Why Remain Cautious of Precious Metals?
By Russ Koesterich, CFA

Nov. 20 2015, Published 2:53 p.m. ET
The combination of a strong dollar and rising real rates is having a predictable effect on precious metals prices. The simultaneous rise in real and nominal rates reflects the fact that inflation is contained and that puts downward pressure on the price of precious metals (since they are viewed as an inflation hedge, but provide no income, they consequently become less attractive). This time is no different, with gold and silver trading back down toward their summer lows, below $1,100 per ounce for gold, according to Bloomberg data.
Given this environment, investors must remain cautious of precious metals. Still, having a hedge against inflation in a portfolio is a sound strategy, and I prefer Treasury Inflation Protected Securities (TIP) in that role.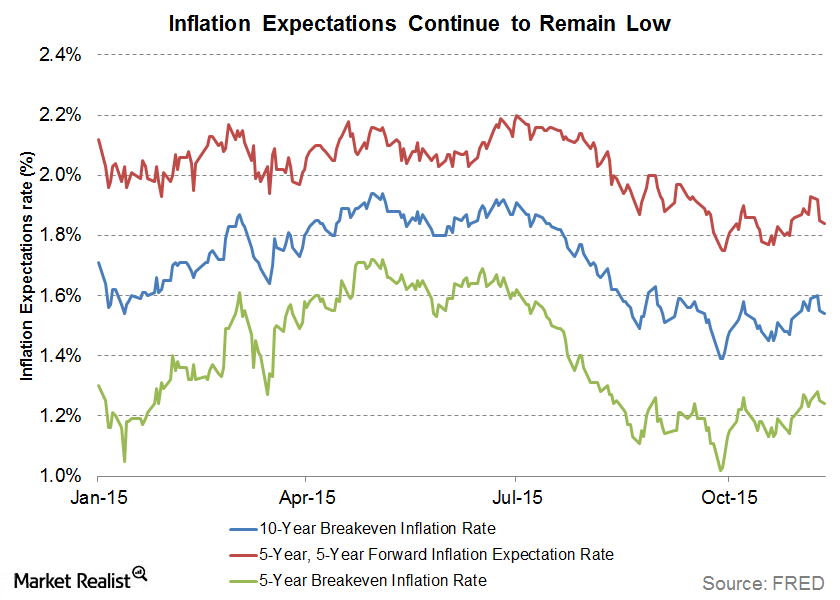 Market Realist – Climbing rates are homologous with a stronger dollar. A stronger dollar has negative implications for precious metals like gold and silver. Since precious metals are priced in the US dollar, prices of precious metals share a negative or inverse relationship with the currency.
Article continues below advertisement
Moreover, inflation remains extremely sedate in the United States. This negates the need for precious metals as hedges against inflation, causing a drop in their demand. Inflationary expectations don't seem to indicate any change in the current trend. The five-year breakeven inflation rate stands at a mere 1.2% while the ten-year breakeven inflation rate stands at 1.5%, both below par.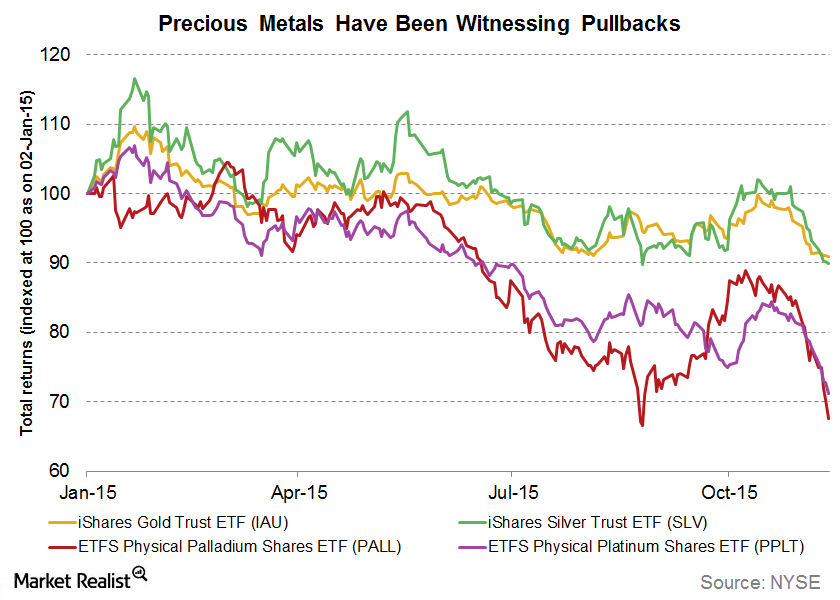 Market Realist – The above graph shows how precious metals have been witnessing pullbacks this year. Gold prices (IAU) hit a three-month low early last week. Platinum (PPLT) prices have hit a six-year low, falling ~15% in the last three weeks alone. Palladium (PALL) is reeling under the aftermath of the expanding Volkswagen emission (VLKAY) scandal, which has now engulfed gasoline engines too. The precious metals sector is suffering due to various headwinds, including a stronger dollar, a slowdown in  global growth, and weaker demand versus supply. According to estimates from Bloomberg, US precious metal ETFs have seen outflows of  $1.1 billion so far in November.
Even though the recent Paris attacks could spur demand for safe-haven investing in gold and silver (SLV), the sector may continue to underperform as the focus shifts back to the Federal Reserve's rate hike timeline.