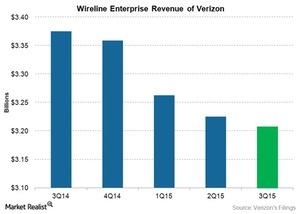 Recent Performance of Verizon's Wireline Enterprise Segment
By Ray Sheffer

Updated
Verizon's wireline enterprise segment
In the last article of this series, we learned that Verizon (VZ) is not selling its enterprise wireline assets. We also learned that the telecom (telecommunication) company has the second-largest wireline operations in the United States.
During the Wells Fargo Technology, Media, and Telecom Conference on November 10, 2015, Verizon's chief financial officer Francis Shammo talked about the recent performance of its wireline enterprise segment.
According to Shammo, "Within Verizon enterprise as we've continued to right-size the organization, take costs out, consolidate billing systems we're becoming more efficient there and you are starting to see maybe a little sign of monthly sequential stabilization here from a revenue perspective."
Shammo added, "Now, my hope is that lasts longer than just a blip on the radar, but we are starting to see where the IP and everything is really starting to stabilize a little bit so maybe there's some upside there into 2017. But we will have to watch that carefully."
Article continues below advertisement
Performance of Verizon's wireline enterprise segment in 3Q15
The typical challenges of declining traditional data and voice services continue to affect domestic wireline players including Verizon, AT&T (T), CenturyLink (CTL), and Frontier Communications (FTR).
Verizon's wireline enterprise segment revenue continued its falling trend in 3Q15. This revenue stream fell ~4.9% YoY (year-over-year) to ~$3.2 billion during the quarter.
The two components of Verizon's enterprise segment are its core services and its strategic services. The revenues of both of these components continued to fall YoY in 3Q15. Core services revenue fell by ~8.6% YoY to ~$1.2 billion in 3Q15. Strategic services revenue fell by ~2.7% YoY to ~$2 billion during the quarter.
Instead of taking direct exposure to Verizon's stock, you may wish to seek diversified exposure to the telecom company by investing in the iShares MSCI USA Minimum Volatility ETF (USMV). USMV held ~1.4% in Verizon at the end of September 2015.