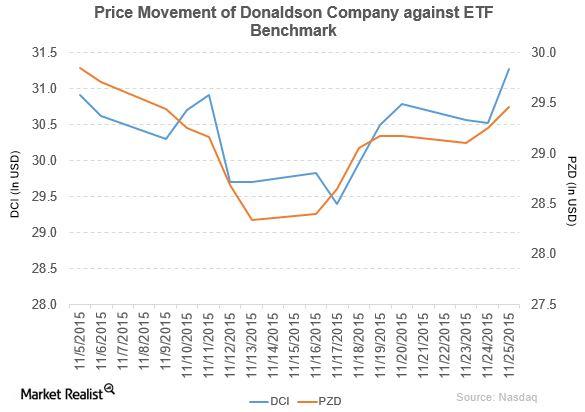 Reading Donaldson's Fiscal 1Q16 Results: Revenue and Income Fall
By Gabriel Kane

Nov. 27 2015, Updated 8:58 a.m. ET
Donaldson's price movement
Donaldson Company (DCI) has a market cap of $4.2 billion. Following the release of the company's fiscal 1Q16 earnings report, DCI rose by 2.5% to close at $31.28 per share on November 25, 2015. The stock's price movements on weekly, monthly, and YTD bases are 4.4%, 6.8%, and -17.9%, respectively.
Technically, the stock has broken the support of 20-day, 50-day, and 200-day moving averages throughout 2015. Currently, DCI is trading 3.2% above its 20-day moving average, 5.5% above its 50-day moving average, and 7.4% below its 200-day moving average.
Article continues below advertisement
The PowerShares Cleantech Portfolio (PZD) invests 2.2% of its holdings in Donaldson. The ETF tracks a tiered equal-weighted index of companies in the cleantech industry. The YTD price movement of PZD is 1.7% as of November 24, 2015. The First Trust Value Line Dividend Index Fund (FVD) invests 0.58% of its holdings in Donaldson.
Donaldson's (DCI) competitors and their market caps are listed below:
Donaldson's performance in fiscal 1Q16
The company reported fiscal 1Q16 net sales of $538.0 million, a fall of 9.8% when compared to net sales of $596.5 million in fiscal 1Q15. Revenue from its Engine Products and Industrial Products segments fell by 11.3% and 7.0%, respectively, in fiscal 1Q16, as compared to revenue in 1Q15. The company's gross profit margin and operating income fell by 5.4% and 27.9%, respectively, in fiscal 1Q16, as compared to the prior year's corresponding quarter.
Article continues below advertisement
Donaldson's net income and EPS (earnings per share) fell to $38.5 million and $0.29, respectively, in fiscal 1Q16, as compared to net income and EPS of $55.9 million and $0.40, respectively, in fiscal 1Q15. Its adjusted operating income and adjusted diluted EPS fell 14.8% and 15% to $65.6 million and $0.34, respectively, in fiscal 1Q16, as compared to fiscal 1Q15.
Meanwhile, cash and cash equivalents and inventories rose by 4.2% and 7.8%, respectively, in fiscal 1Q16, on a quarter-over-quarter basis. The company's current ratio fell to 1.7, and its debt-to-equity ratio rose to 1.4, in fiscal 1Q16, as compared to its current ratio and debt-to-equity ratio of 1.8 and 1.3, respectively, in fiscal 4Q15.
The company has acquired 100% of the shares of Engineered Products Company, a designer and manufacturer of indicators, gauges, switches, and sensors for engine air filtration and liquid filtration systems.
It has declared a regular quarterly cash dividend of 17 cents ($0.17) per share on its common stock.
On November 5, 2015, the company announced plans to open two new distribution centers in Bogota and Cartagena, Colombia, and a new manufacturing plant in Skarbimierz, Poland.
Projections
The company has projected the following for fiscal 2016:
Sales in the range of 3%–7%
Repurchasing of outstanding shares in the range of 2%–4%
Adjusted EPS in the range of $1.49–$1.69
Fiscal 2016 GAAP (generally accepted accounting principles) EPS are expected to be ~6 cents lower than adjusted EPS, reflecting the full-year impact from restructuring charges and investigation-related costs of 5 cents and 1 cent, respectively. GAAP guidance does not reflect any future costs related to the independent investigation, which was completed in November 2015.
The company has excluded the acquisition impact of Industrias Partmo, which will close in the second quarter of 2016 following customary regulatory approval in Colombia from fiscal 2016 guidance.
Article continues below advertisement
According to Tod Carpenter, Donaldson's chairman and CEO, "Our first quarter performance reflects disciplined management of the business in light of continued and persistent pressures related to reduced customer demand, economic uncertainty and currency translation." He went on to add, "We have also revised full-year 2016 sales and earnings guidance, reflecting slowing conditions primarily in our Off-Road, Engine Aftermarket, and Industrial Filtration Solutions business. Despite the reduction of our sales guidance, the midpoint of our adjusted EPS guidance is slightly above last year, reflecting the benefits from recent and previous restricting actions, our continuous improvement initiatives and expense controls."
About Donaldson 
Donaldson Company provides filtration systems and replacement parts. It has 140 sales, manufacturing, and distribution locations in 44 countries.