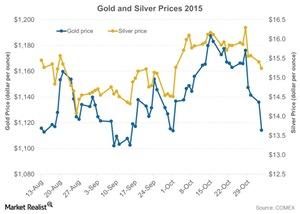 Is the Price Fall in Precious Metals Leading to a Rise in Demand?
Discount on gold
The physical demand for gold rose throughout October 2015 and continues to rise in November as the Hindu festival of Diwali in India approaches. Previously, demand had stayed low due to the patchy monsoon season. Most of the rural population in India is into farming, and so scanty rainfall means fewer earnings, which usually causes the purchasing power of investors from India to remain subdued.
The discounts rates in India were higher for gold during the last week of October 2015, before the US Fed meeting—a discount as high as $10 per ounce. However, after the decline in precious metals prices, demand slowly picked up, and the discount came down to almost $2–$2.5 per ounce on Monday, November 2.
Article continues below advertisement
World Gold Council
The sharp fall in prices is also likely to be the one of the most significant factors affecting gold demands in the East. According to the WGC (World Gold Council), the Indian wedding and festival season, which typically runs from October to December, generally sees the highest level of demand for gold during the year.
Still, Indian dealers are expecting the demand for gold to continue strongly as the prices drop, and so we can expect a possible conversion of these discounts into premiums. But even with a rise expected in the physical demand for gold, gold prices are at least expected to bounce back. In any case, both industry experts and analysts continue to hold a negative outlook toward the precious metals as of November 2, 2015.
Related ETFs
Under the perception of lower prices for gold and silver, ETFs backed by these precious metals like the iShares Gold Trust (GLD) and iShares Silver Trust (SLV) are also expected to see plunges.
Mining equities that may also retreat due to falling precious metals prices include Royal Gold (RGLD), GoldCorp (GG), and B2Gold Corporation (BTG). These three companies together make up 13.60% of the VanEck Vectors Gold Miners ETF (GDX).