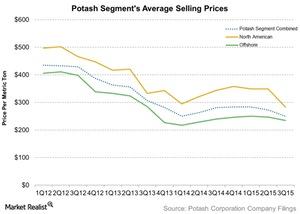 How PotashCorp Is Dealing with Low Potash Price Levels
Potash selling prices
Previously we saw how PotashCorp's (POT) potash segment's shipments grew in 3Q15. Prices along with shipments impact revenue, so despite a decline in shipments, an increase in average selling price can help boost revenue. Let's look at how selling prices have fared during the quarter and where they are headed.
North America makes up for about 33% of the potash segment's net sales and the remaining 66% of the company's potash segment's net sales are offshore.
Article continues below advertisement
The average selling price of potash has fallen over the years and currently stands at $250 per metric ton, lower than 3Q14's price of $281.
Potash prices were weaker in North America, falling to $283 per metric ton in 3Q15 from $344 per metric ton in 3Q14. Offshore potash prices fell to $235 from $240 per metric ton over the same period.
Outlook
A weaker pricing environment puts immediate pressure on the company's margins.
More importantly, a company with high production cost may lose out to low-cost producers, and as a result, lose its market share.
The company appears to be provident in its efforts to protect its market share and has taken initiatives since 2013 when it reduced its potash operations by 30%.
Given the price levels, PotashCorp is working on initiatives to reduce costs of goods to remain competitive.
The company's new Rocanville facility is expected to reduce cash COGS (cost of goods sold) for potash to be in the range of $40–$45 per ton. Compare this to its current average cost of about $105 per ton.
PotashCorp (POT), along with The Mosaic Company (MOS), CF Industries Holdings (CF), and Agrium (AGU) form about 14% of the VanEck Vectors Agribusiness ETF's (MOO) portfolio.