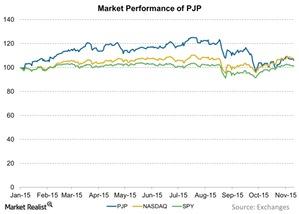 The PowerShares Dynamic Pharmaceuticals ETF: PJP's 2015 Performance
By Ivan Kading

Nov. 12 2015, Updated 1:16 p.m. ET
PJP's top holdings
The PowerShares Dynamic Pharmaceuticals ETF (PJP) is a smart beta fund that seeks to mimic the market performance of its index, the Dynamic Pharmaceutical Intellidex. The top five holdings of PJP include the following top pharmaceutical stocks:
The fund's top ten holdings represent 52.41% of its total portfolio. Hence, the top ten holdings have a huge impact on the market performance of PJP.
Article continues below advertisement
Performance comparison
The above graph aims to give a theoretical, comparative picture of the relative market performance of PJP if $100 were invested in it, in the S&P 500, and in the NASDAQ simultaneously since January 01, 2015. It is evident from the above graph that PJP would have outperformed the market SPY and NASDAQ during the opening two quarters of 2015, although PJP began to fall considerably in August 2015.
As the graph shows, the NASDAQ, which has more pharmaceuticals stocks in its portfolio than any other broader index, has performed better than the SPY. Meanwhile, PJP successfully outperformed the market with a YTD (year-to-date) return of 6.5%, as of early November 2015.
Holdings return
As stated earlier, PJP's performance is primarily dependent on the performance of its top ten holdings. Bristol-Myers Squibb, which is the top holding of PJP, shows a total TTM (trailing 12-month) return of 9.61%.
By comparison, Allergan has a fund weight of 5.35% in the portfolio and performed strongly, with a TTM return of 28.73% as of early November. The Medicines Company (MDCO) and Ligand Pharmaceuticals (LGND), which have weights of 5.16% and 4.42%, respectively, in PJP, performed brilliantly as well. The top underperforming stocks in PJP include Johnson & Johnson and Amgen.
Continue to the next part of this series for an instructive comparison of the PowerShares Dynamic Biotechnology & Genome Portfolio (PBE) with PJP.