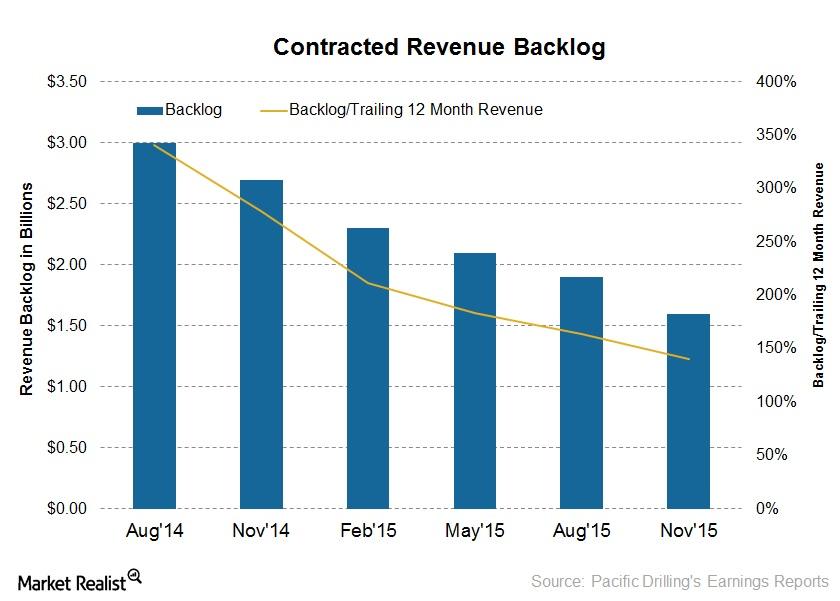 Pacific Drilling's Backlog after 3Q15: Concerns and Management Expectations
By Sue Goodridge

Nov. 16 2015, Published 3:45 p.m. ET
Contract backlog
As of November 5, 2015, Pacific Drilling (PACD) had a backlog of $1.6 billion compared to $1.9 billion at the end of 2Q15. Knowing a drilling company's backlog helps us gauge what will likely be the company's maximum revenues based on current contracts.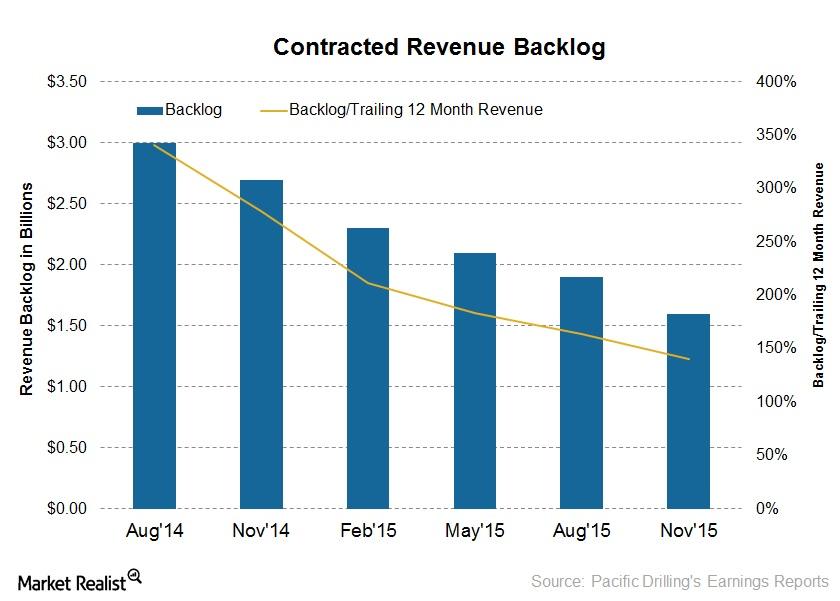 Article continues below advertisement
Declining backlog
Pacific Drilling's backlog-to-TTM (trailing 12-month) revenue is rapidly declining. Below are few key takeaways:
The company's backlog stood at 140% as of November 5, 2015, compared to 164% at the end of the previous quarter and to 279% over the same period last year.
This steep fall indicates that the company is relying on its older contracts for revenue and has failed to secure new contracts in this industry downturn.
The company's 2016 backlog stands at $715 million, which represent 61% of the company's TTM revenue.
A worrisome situation will occur in 2017 if the company fails to secure new contracts as its 2017 backlog stands at $280 million, only 24% of its TTM revenue.
Are contracts a cause for concern?
Pacific Drilling has failed to secure any new contracts in the third quarter of 2015. The company has only one contract that extends beyond 2017. One contract will expire in 4Q15, one in 3Q16, and the remaining two in the first and second quarters of 2017.
Article continues below advertisement
Management expectations
The company does not expect the contract on Pacific Khamsin, which will expire in 4Q15 will be renewed amid the tough market. But the company is hopeful that contracts on the Pacific Bora and the Pacific Sirocco, which are set to expire in 3Q16 and 1Q17, will be renewed. The company also stated that it is in talks with its customers on "blend and extend" on existing contracts. Blend and extend means reducing day rates in exchange of extending the contract term.
Backlog compared to peers
Pacific Drilling's 140% ratio of backlog-to-TTM revenue is one of the lowest among other offshore drilling peers (IYE) (XLE). Below is a more specific breakdown:
Continue to the next part of this series for an analysis of Pacific Drilling's 3Q15 expenses and future expense estimates.