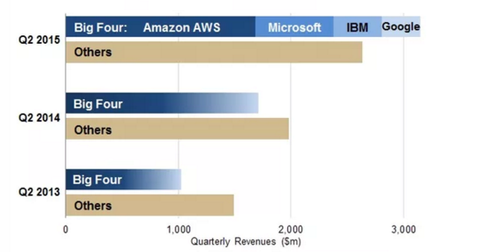 Oracle Aims to Extend Its Dominance in the Database to Cloud
By Anne Shields

Updated
Oracle hired sector specialists to establish itself in cloud space
At Oracle's (ORCL) OpenWorld 2015 conference, the company made news when it announced entry into the public cloud space with its Elastic Compute Cloud offering. However, many analysts saw this coming, as the company had hired former Google (GOOG) executive Peter Magnusson in 2014. Magnusson is Oracle's senior vice president and stands behind the company's public cloud efforts. Oracle also hired Don Johnson in 2014, a former Amazon (AMZN) employee, to develop an engineering center.
Article continues below advertisement
Oracle leads the database market
According to IDC (International Data Corporation), Oracle commands 35% of the overall database market, whereas Amazon has less than 1% share in the space. Both companies, however, appear to agree that the database market–worth $41.3 billion a year according to the Wall Street Journal–is transitioning to the cloud. Though Amazon has not yet made a move towards corporate data centers, it might not be long before it does so. After all, Oracle encroached on Amazon's territory by launching Elastic Compute Cloud.
However, it would be a herculean task for Oracle if it wishes to compete with Amazon. Let's see why.
Amazon leads the cloud space
According to Synergy Research, though Amazon (AMZN), Microsoft (MSFT), Google (GOOG), and IBM (IBM) collectively command 54% of the cloud infrastructure market, it's Amazon that continues to lead the space with a 29% market share. Amazon is followed by Microsoft with 12%, IBM with 7%, and Google with 6% of the market.
Oracle has tough competition in cloud space
To become a formidable player in this space, Oracle needs to construct a worldwide cloud infrastructure, offer more cloud-based options, as well as lower the prices of its offerings. A recent announcement by HP (HPQ) stated that it would be closing down its HP Helion Public Cloud offering on January 31, 2016. This shows that the competition in the cloud space has notched up several steps. In the presence of competitors like Google, Microsoft, IBM, and Amazon, Oracle will need to make its array of new services count.
The PowerShares QQQ Trust (QQQ) invests about 3.1% of its holdings in Oracle.