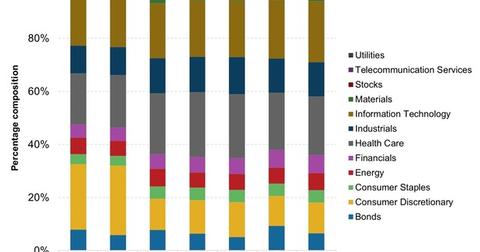 November Rundown of the American Funds AMCAP Fund Class A
By David Ashworth

Nov. 20 2015, Published 1:24 p.m. ET
The American Funds AMCAP Fund Class A
The American Funds AMCAP Fund Class A (AMCPX) invests primarily in "US companies of any size with solid long-term growth records and the potential for good future growth." Fund managers retain the flexibility of investing in companies based outside the US, but they'll do it to a restricted degree only.
Multiple fund managers are involved in investment decisions by the investment adviser to the fund. The way it works is that the overall portfolio is divided into distinct segments which are managed by individual managers. Managers employ fundamental analysis, which includes meeting with company executives and employees, suppliers, customers, and competitors, to arrive at suitable securities for the portfolio.
Article continues below advertisement
The fund's assets were invested across 252 holdings (stocks, bonds, and cash) as of September 2015 (the latest available), and it was managing assets worth $47.38 billion as of the end of October. Its September portfolio holdings included Amgen (AMGN), Precision Castparts Corporation (PCP), Class A shares of Accenture (ACN), BioMarin Pharmaceutical (BMRN), and Stryker Corporation (SYK), comprising a combined 9.4% of the fund's portfolio.
Historical portfolios
For this analysis, we will be considering the fund's holdings as of September 2015, as that is the latest available sectoral breakdown with us. The fund's holdings after September reflect valuation-driven changes to the portfolio, not the actual holding. Do keep in mind that the fund discloses portfolio holdings once per quarter.
Looking at the portfolios of the fund from a year ago until October 2015, financials have created more space of themselves, both in terms of the number of stocks held as well as the portfolio weight. Industrials, materials, and telecom services also saw increased exposure over the past year. On the other hand, the fund has sold off a lot of its bond holdings, and the exposure to healthcare and utilities stands reduced.
Intra-year, the fund aggressively bet on the consumer discretionary sector. Its exposure had risen from ~11% in October 2014 to 26.2% in May 2015. However, it sold off subsequently, and the fund's exposure to this sector stood at 11.7% in October 2015. Fund managers have continued to hold on to their picks from the energy sector over the past year except for a few stock-level changes.
But how has the fund's composition impacted its performance for the one-year period ending in October, and what can this be attributed to? Continue to the next part of this series to find out.