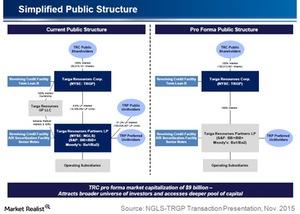 NGLS-TRGP Deal Will Simplify the Company Structure
By Rekha Khandelwal, CFA

Nov. 20 2015, Updated 12:04 a.m. ET
Simplified structure after NGLS-TRGP merger
The merger deal between Targa Resources Partners (NGLS) and Targa Resources (TRGP) will greatly simplify the companies' current complex structure. The transaction creates one simplified public C corporation entity. The simplified structure should attract a broader group of investors and allow the company to access a deeper pool of capital to finance future growth. This should also simplify its governance. The consolidated C corporation will have a pro forma market capitalization of $9 billion.
Article continues below advertisement
Improved cost of capital for Targa Resources
You can see the current and pro forma public structure for Targa Resources in the above chart. Targa Resources Partners will cease to exist as a public entity after the merger. The merger will also eliminate TRGP's IDRs (incentive distribution rights) in NGLS.
IDR structure entitles the GP (general partner) progressively higher percentages of incremental cash flows, as an MLP raises its distributions per share. So the presence of IDRs puts a significant burden on an MLP's cost of capital.
NGLS currently operates in its highest distribution tier with 50% split. This split means that 50% of all of NGLS's incremental cash flows above $0.51 per share goes to TRGP.
In the currently challenging environment, it's becoming increasingly important for MLPs to have a lower cost of capital. That improves a company's competitive position for expansion and acquisition opportunities.
Tax considerations in the TRGP-NGLS merger
According to Targa Resources, the tax attributes of the merger will result in low or zero cash taxes for at least the next five years and continued low cash taxes for TRGP in the future. This should be a positive factor from an investor's standpoint. Unlike MLPs, the earnings of C corporations are taxed at the entity level.
TRGP forms ~3.3% of the Global X MLP & Energy Infrastructure ETF (MLPX). You can read about the merger of Energy Transfer Equity (ETE) and Williams Companies (WMB) in A Complete Guide to the Energy Transfer–Williams Merger.