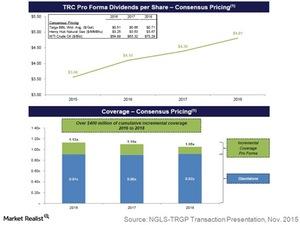 NGLS-TRGP Deal Is Expected to Improve Dividend Growth, Coverage
By Rekha Khandelwal, CFA

Nov. 6 2015, Published 10:12 a.m. ET
Targa Resources Partners' future coverage was constrained
Targa Resources Partners (NGLS) management believes that in the absence of a merger, Targa Resources Partners' (NGLS) stand-alone future EBITDA (earnings before, interest, tax, depreciation, and amortization) growth may be offset by the following:
lower hedge settlements
roll-off of the IDR (incentive distribution rights) giveback associated with the Atlas merger
growing interest expense due to the shortfall in coverage
This would result in distribution coverage of around 0.9 times from 2016 to 2018 for stand-alone NGLS, assuming flat annualized per unit distribution of $3.30. NGLS forms ~4.6% the Alerian MLP ETF (AMLP).
An MLP's distribution coverage is the ratio of its distributable cash flow to total distributions. A ratio below 1.0 is considered risky, as it shows the MLP is distributing more cash than it's generating. This can't continue in the long run.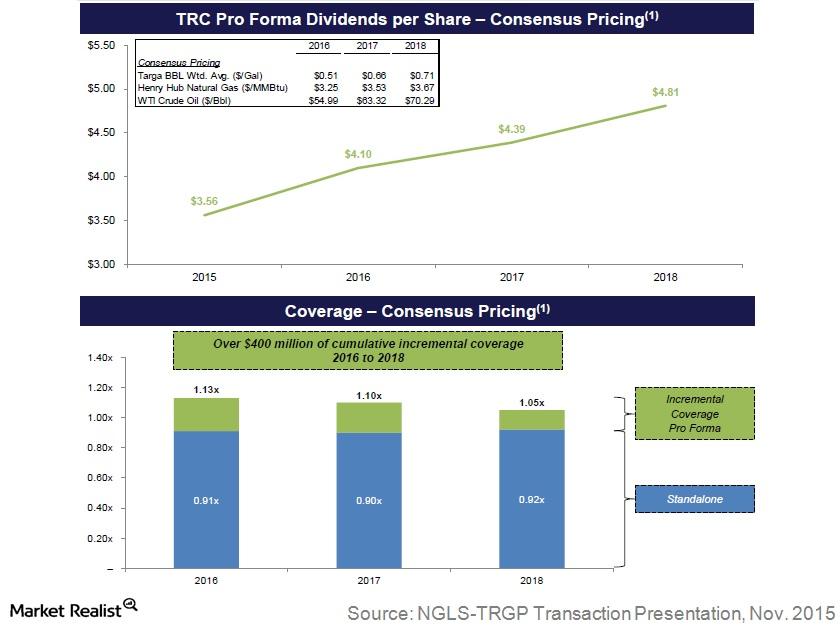 Article continues below advertisement
The NGLS-TRGP deal improves dividend growth prospects
As the top part of the above graph shows, under consensus commodity pricing assumptions, Targa Resources' (TRGP) (labeled as TRC in the graph) pro forma dividends per share show growth from 2015–2018. Targa Resources estimates 15% TRGP dividend growth in 2016 and more than 10% dividend CAGR (compounded annual growth rate) from 2015–2018.
The merger is expected to create more than $400 million of cumulative incremental coverage from 2016–2018 in the base case. This is expected to improve the coverage ratio to above 1.
The bottom part of the above graph shows the NGLS stand-alone coverage and the incremental pro forma coverage expected after consolidation. The additional cash flow coverage is expected to support Targa's dividend growth outlook and reduce the need for external financing.
Targa anticipates positive dividend growth and a coverage ratio above 1, even with low commodity price assumptions.
Martin Midstream Partners (MMLP), American Midstream Partners (AMID), and Cheniere Energy Partners (CQP) are other MLPs that didn't increase distributions in 3Q15 over the previous quarter.