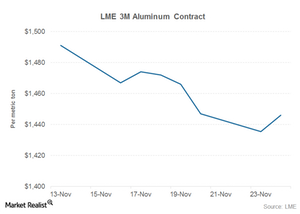 Why Have Markets Ignored "Mega News" of China's Aluminum Cuts?
By Mohit Oberoi, CFA

Nov. 27 2015, Updated 10:06 a.m. ET
China's aluminum cuts
According to a Bloomberg report, citing the Sino-Russian protocol on energy cooperation that was signed on November 16, China (FXI) would bring "aluminum output into line with demand." According to Bloomberg, quoting RUSAL's Deputy CEO (chief executive officer), Oleg Mukhamedshin, this is "mega news for the industry."
Aluminum producers, including Alcoa (AA), see Chinese exports as the biggest challenge to the aluminum industry. However, despite this "mega news," aluminum prices have continued to fall in the last few trading sessions, as shown in the graph above. Let's see why.
Article continues below advertisement
Earlier cuts
China's Chinalco (ACH) announced production cuts of 530,000 tons in October. However, according to a Wall Street Journal report, citing Nomura, Chinalco will now be cutting production by only 150,000 tons as the local government has decided to subsidize the smelter's power supply. More Chinese smelters could receive state subsidies in a bid to prevent job losses.
Also, China's previous announcements of supply cuts have not really materialized. China has, on previous occasions, announced intentions of cutting its steel capacity. However, the country's steel exports have continued to surge, negatively impacting steel companies such as U.S. Steel Corporation (X) and POSCO (PKX).
Steel
Earlier this year, China clamped down on a tax loophole that allowed steel exporters to tag standard steel products as alloy steel by adding a minimal amount of boron. Boron alloy steel accounted for an estimated one-third of the steel exports from China last year. The clampdown on boron steel products raised expectations that some supply balance might return to the oversupplied global steel markets. However, in reality, China has already exported as much steel in the first ten months of 2015 as it did in fiscal 2014. In this setting, markets doubt that China will be curtailing its aluminum smelting capacity significantly.
In the next part of this series, we'll look at the recent trends in physical aluminum premiums.