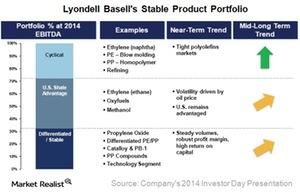 How LyondellBasell Has Improved Its EBITDA Margins
By Steve Ariel

Updated
Stable product portfolio
LyondellBasell (LYB) has classified its product portfolio into three categories on the basis of earnings volatility: differentiated, US shale gas advantage, and cyclical. The chemical industry is into the commodity business, which makes it very cyclical. However, LYB has built a very stable product portfolio, as about 70% of its 2014 EBITDA came from differentiated products (propylene oxide, catalloy, differentiated polyolefins, technology segment) and low cost US shale natural-gas-linked products (ethane-based ethylene, oxyfuels, methanol).
Article continues below advertisement
Higher demand for LYB's chemical products
LYB's chemical products are used for packaging, food processing, pharmaceuticals, and automotive products. Two-thirds of LYB's sales are driven by non-durable industries such as food processing and packaging. Therefore, LYB's sales are largely driven by higher volumes in most of the products.
Consistent improvement in EBITDA margins
With its stable product portfolio, LYB has consistently increased its EBITDA margins from 11.4% in 2011 to 15.5% in 2014. Overall, LYB's EBITDA has increased at a CAGR of 9% between 2011 and 2014. Higher EBITDA was largely driven by better product mix, higher operating rates, US shale-gas-based capacity addition, and a favorable oil-to-gas ratio. The oil-to-gas ratio was almost the same in early 2015 as it was in 2014, as natural gas prices have also come down along with crude oil. Thus, LYB continues to benefit from low cost natural gas produced from US shale gas.
EBITDA margins comparison
LYB's major peer, Dow Chemical (DOW), has also expanded its EBITDA margins from 12.7% in 2012 to 16.5% in 2014. Dow has relatively better margins than LYB due to a better product mix. LYB's relatively small peer Westlake Chemical (WLK) has high EBITDA margins of around 30% due to a focus on higher margin products and lower raw material costs. DuPont (DD) and Monsanto (MON) do not give EBITDA numbers explicitly. They primarily report segment income and operating profit, respectively.
The iShares U.S. Basic Materials ETF (IYM) primarily focuses on chemical industry stocks. The combined holdings of DD, MON, and LYB are 25.3% in IYM.