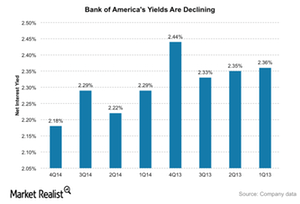 Low Interest Rates Eat into Money Market Funds' Yields
By Rebecca Keats

Nov. 10 2015, Updated 2:09 p.m. ET
Money market funds suffer in periods of low interest rates
Money market funds suffer in periods of low interest rates. This is because their yields drop, causing fund managers to lower fees and close fund access to new investors.
Asset managers have been forgoing many of their usual fees for running the funds because with interest rates low, charging full fees would cause the funds' share prices to fall below the $1 per share prices they aim to maintain.
From 2009 through 2014, these waivers cost the industry $30 billion in lost revenue, with $6.3 billion of that lost in 2014, according to the Investment Company Institute trade group. Charles Schwab (SCHW) alone waived $168 million in fees during 2Q15, $184 million in 1Q15, and $2.0 billion over the three years through 2014.
Article continues below advertisement
Large banks are trimming asset sizes
Most large US banks (KBE) are trimming their asset bases as they face pressures to simplify their businesses since the financial crisis of 2008. Banks have been reducing unwanted assets and are cutting down on their expenses.
Since interest rates in the United States have remained unchanged since the financial crisis, large banks are finding it difficult to adhere to Basel III requirements, which require banks to hold large amounts of cash.
Bank of America (BAC) has been reducing the size of its asset management business for a long time. In 2010, it sold Columbia Management to Ameriprise Financial (AMP) for $1 billion. On June 30, 2009, its long-term asset management business had approximately $165 billion in equity and fixed-income assets under management.
In 2006, BlackRock (BLK) bought Bank of America's investment management business. Bank of America's assets under management fell to $0.88 trillion in 3Q15 from $0.91 trillion in 4Q14.