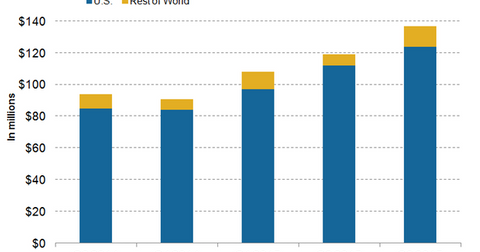 Kyprolis Strengthens Amgen's Position in Multiple Myeloma Segment
By Margaret Patrick

Updated
Kyprolis and growth in revenues
In 3Q15, Amgen's (AMGN) oncology drug Kyprolis registered a healthy growth in revenues of about 46% from $94 million in 3Q14 to $124 million in 3Q15, and sequential revenue growth of 15% from $119 million revenues in 2Q15. To learn more about Amgen's multiple myeloma (or MM) drug Kyprolis, please refer to Kyprolis: Amgen's Innovative Drug in Oncology Segment.
Article continues below advertisement
Kyprolis's performance
Initially used as a third line of treatment for multiple myeloma, on July 24, 2015, the Food and Drug Administration (or FDA) approved Kyprolis in combination with Revlimid and dexamethasone—the combination is known as the KRd regimen—for the treatment of patients who had priorly received one to three lines of therapy.
The expanded indication as a second line of treatment was supported by data from the phase 3 ASPIRE study. The data showed that patients treated with the KRd regimen displayed increased survival rate without the progression of multiple myeloma, also called progression-free survival (or PFS).
Kyprolis has been increasingly considered as a backbone therapy for MM. After the release of this data, Amgen has seen that new patients on the KRd regimen almost doubled in the relapsed MM setting. Also, the ASPIRE study was designed to treat patients with Kyprolis for a duration of 18 months.
Rising market share coupled with the increase in Kyprolis's duration of therapy for second-line MM treatment has resulted in more sales of the drug in 3Q15. Amgen is thus expected to provide tough competition to other MM players such as Johnson & Johnson (JNJ), Novartis (NVS), and Celgene (CELG).
Future approvals
Amgen has received FDA priority review for the data from the phase 3 Endeavor study, evaluating Kyprolis in combination with low dose dexamethasone with Velcade. The study demonstrated that in the case of Kyprolis-treated patients, PFS was nearly twice that of Velcade-treated patients. The result of this review will be announced by the FDA on January 22, 2016. This data is further expected to strengthen Kyprolis's position in the MM market.
Amgen also expects to get approval for Kyprolis as a second-line MM therapy in Europe, Canada, and some South American and Asian countries in 4Q15.
Amgen accounts for 2.3% of the PowerShares QQQ ETF's (QQQ) total holdings.