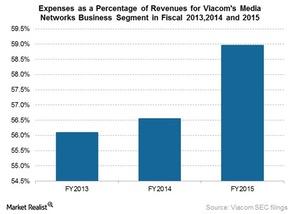 Key Events Affecting Viacom's Fiscal 2015 Results
By Shirley Pelts

Nov. 20 2015, Updated 11:05 a.m. ET
Viacom's investment in original programming
Viacom (VIAB) reported its fiscal 4Q15 and fiscal 2015 earnings on November 12, 2015. The company is increasing its focus on original programming. An example of this is Viacom's Nickelodeon network.
During fiscal 4Q15, Nickelodeon had a large number of new TV shows with content for kids that had high television ratings. Another Viacom network, Comedy Central, has ten new originals in the pipeline.
Viacom expects its Media Networks business segment's programming expenses to grow in the mid to high single digits in fiscal 2016 due to its focus on original programming. As the chart above indicates, expenses as a percentage of revenues for Viacom's Media Networks segment rose by two percentage points in fiscal 2015 to 59%.
Article continues below advertisement
Filmed Entertainment segment's Paramount Television
Viacom's Paramount Television produces original programming for television and SVOD (subscription video on demand) platforms such as Netflix (NFLX). Paramount Television entered into an agreement in October this year with Netflix to produce a series called 13 Reasons Why and a television deal with director Cary Fukunaga.
Paramount Studios
Paramount Studios' Mission: Impossible – Rogue Nation was among the top five movies during the summer. This movie earned 70% of its revenue from international markets. In fiscal 2015, Paramount Studios did not have many films in the pipeline. Viacom intends to remedy that and plans to have fifteen movies in the pipeline in fiscal 2016.
Viacom expects the profit from Paramount Studios to be reflected in its results in the latter half of fiscal 2016 due to three summer movie releases including Teenage Mutant Ninja Turtles 2 and Star Trek 3.
Distribution agreement with AT&T and Hulu
In October this year, AT&T (T) entered into a multiyear agreement with Viacom. According to the terms of this agreement, Viacom will continue to provide programming for AT&T's U-verse television and DirecTV subscribers.
Also in October this year, Hulu renewed its agreement with Viacom. Under the terms of this agreement, Hulu would be an exclusive SVOD platform to carry Viacom's popular TV shows.
As a result of these distribution agreements, Viacom expects its domestic affiliate fee revenue to grow in the high single digits in fiscal 2016.
In the next part of this series, we'll look at Viacom's reasons for its focus on original programming.
Viacom makes up 0.22% of the Guggenheim S&P 500 Equal Weight ETF (RSP). The same ETF also holds 0.26% of Sandisk (SNDK).