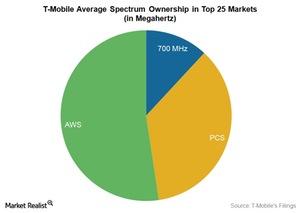 Importance of the 600 MHz Broadcast Auction for T-Mobile
By Ray Sheffer

Updated
T-Mobile on 600 MHz broadcast auction
During the recent Morgan Stanley European Technology, Media, and Telecom Conference held on November 12, 2015, T-Mobile's (TMUS) chief financial officer J. Braxton Carter talked about the importance of the FCC's (Federal Communication Commission) 600 MHz (megahertz) broadcast auction for the company.
This auction is expected to begin at the end of 1Q16.
Talking about the 600 MHz auction, Carter said, "I think it's going to be a – I just think a once-in-a-lifetime opportunity to level the playing field with T-Mobile U.S. versus the other national carriers."
As per the FCC, bidders who do not have at least 45 MHz of coverage holdings (low-band spectrum) in a local area get a maximum spectrum reserve of 30 MHz in that area in this spectrum auction.
Among the top four US mobile players, AT&T (T) and Verizon (VZ) have significant holdings in the low-band spectrum. Sprint (S) and T-Mobile do not have such large holdings in this coverage spectrum. However, Sprint is not participating in this auction.
Article continues below advertisement
700 MHz spectrum deals before the FCC auction
During the conference, T-Mobile's chief strategy officer Peter Ewens talked about the opportunities in the 700 MHz A Block spectrum before the FCC 600 MHz auction's quiet period.
Ewens said, "I would say with respect to A Block, I mean, we think the window for existing holders to monetize what they have is narrowing. There are build-out requirements for the end of 2016."
He added, "If we don't transact and we get what we need in the broadcast auction, then that opportunity will be missed. So we're hopeful that we'll reach agreement with other providers, and we expect to do so maybe right up until the close of the quiet period on January 28."
Instead of taking direct exposure to T-Mobile's stock, you may consider taking diversified exposure to the telecommunication company by investing in the Vanguard Telecommunication Services ETF (VOX).
VOX had ~4.2% of its holdings in T-Mobile at the end of September 2015.