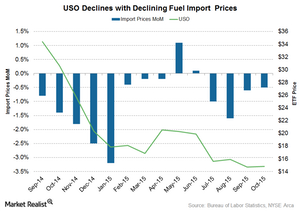 Import Prices Fell with Lower Fuel and Nonfuel Prices in October
By Lara Sheldon

Updated
Import prices fell 0.5% in October
According to the U.S. Bureau of Labor Statistics, import prices fell 0.5% in October as compared to a fall of 0.6% in September 2015. This was mainly attributed to falling prices for both fuel and nonfuel imports. Continuing this trend, fuel import prices fell further by 2.0% in October. Petroleum prices fell 2.1%, whereas natural gas prices fell 2.5%. Fuel prices have fallen steeply by 46.6% over the past 12 months. Declining demand and oversupply have resulted in a fall in petroleum prices by 48.0% and natural gas prices by 30.3% from a year ago. Fuel is a major import item, and with falling fuel costs, import prices fell 10.5% in October from a year ago.

Article continues below advertisement
USO falls with fuel import prices
With falling fuel prices, the United States Oil Fund (USO) has fallen 51.7% YoY (year-over-year) as of November 10. ExxonMobil Corporation (XOM), Chevron Corporation (CVX), ConocoPhillips (COP), and Occidental Petroleum Corporation (OXY) have fallen 13.7%, 20.8%, 23.2%, and 10.3%, respectively, YoY as of November 10.
Strong dollar impacting exports of consumer goods and automotive vehicles
The PowerShares DB US Dollar Bullish ETF (UUP) has risen 10.8% YoY with the rising dollar. The strong dollar has weakened US export competitiveness. Export prices, which have fallen 6.7% over the past 12 months, fell 0.2% in October. The fall in export prices was mainly due to lower prices for both agricultural and nonagricultural exports. While agricultural exports fell 0.1% in October, nonagricultural exports fell 0.3% with the fall in prices for industrial supplies and materials, consumer goods, and automotive vehicles.
The fall in import and export prices suggests that the global economic outlook remains subdued with falling crude prices and the slowdown in emerging economies. The Fed may consider lower price pressure when deciding on a rate hike this December.
Like price pressure, sales and inventories are crucial and may influence future economic growth. We'll explore wholesale trade sales and inventory data in detail in the next article of this series.