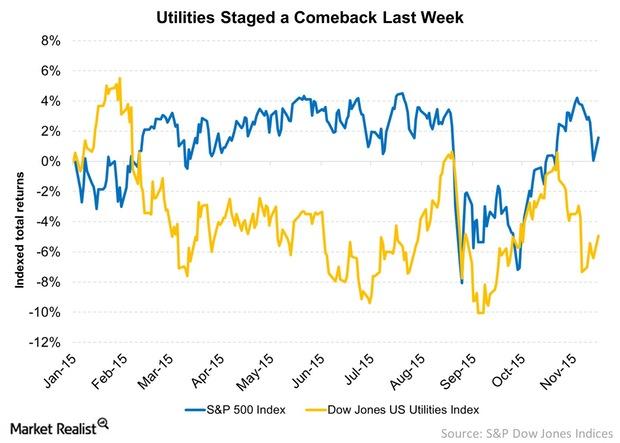 Get Ready for a 'Low for Longer' Interest Rate Environment
By Russ Koesterich, CFA

Dec. 4 2020, Updated 10:53 a.m. ET
Contained long-term rates
In an environment in which inflation is modest and yields remain low, investors are likely to continue to stretch for yield. Case in point: Last week utility stocks, as measured by the Dow Jones US Utilities Index, managed to buck the broader selling and post a small gain. Though the sector remains expensive, in a low yield world, investors are more willing to pay a premium for companies with relatively safe dividends.
Article continues below advertisement
Market Realist – A "low for longer" interest rate environment is upon us.
The graph above compares the YTD performances of the S&P 500 Index (IVV)(VOO) with that of the Dow Jones US Utilities Index (IDU). The former has gained 1.6% YTD (year-to-date) as of November 16 while the latter has declined by 4.9%. The probability of higher interest rates weighed on the utility sector all year, which led to the underperformance.
Utilities, among other sectors like staples (XLP), are usually dubbed "bond proxies." This is because the utility sector is sensitive to interest rates. These companies have an unusually large amount of debt in their books due to their high capital expenditure requirements. So higher interest rates squeeze the bottom line of utility companies.
Utilities are currently giving a dividend yield of about 3.4% compared to 2.1% on the S&P 500 Index (SPY). Thus, with yield likely to be a scarce commodity due to the global slowdown, utilities and other high-dividend paying sectors like staples (FSTA) are gaining investor attention. The utility sector (XLU) is trading close to 17.8x trailing-12-month earnings. Historically, the sector has been trading in the region of 14x earnings.
While investors are ready to pay a premium for utilities in order to access yield, remember that utilities underperform in a rising rate scenario. However, any rise is likely to be gentle.