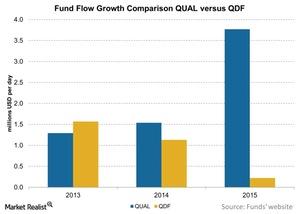 A Fund Flow Comparison of QUAL and QDF
By Ivan Kading

Nov. 6 2015, Updated 8:10 a.m. ET
QUAL versus QDF
The iShares MSCI USA Quality Factor ETF (QUAL) seeks to mimic the performance results of the MSCI USA Sector Neutral Quality Index. It selects stocks based on various fundamental factors such as return on equity, stable earnings growth, and low debt to equity.
A similar smart beta fund that uses quality as a factor for stock selection is the FlexShares Quality Dividend ETF (QDF). It seeks to track the investment results of the Northern Trust Quality Dividend Index. In consideration for inclusion in QDF's portfolio, each company's quality is assessed by its profitability, management expertise, and cash flow.
Article continues below advertisement
Fund flow comparison
QDF was launched on December 19, 2012, whereas QUAL was launched after a gap of seven months on July 18, 2013. Due to QUAL's recent strong performance in the current year, investor confidence in the fund has increased, as can be observed in the graph above.
QUAL has seen constant growth in its share purchases since its inception. A rise in fund inflow is a sign of positive demand from investors. Excess cash is used by the manager of a fund to help in its performance improvement.
QDF, on the other hand, has seen a small growth in funds over the year due to its flat performance in the market.
Portfolio comparison
QDF's portfolio size currently stands at $681.3 million, with stocks such as Wells Fargo (WFC), Home Depot (HD), and Apple (AAPL) among its top holdings. QUAL's top holdings include Microsoft (MSFT), Johnson & Johnson (JNJ), and Apple.
Both ETFs seek stocks with high quality and thus strong potential for providing capital appreciation to investors.
In the next part of the series, we'll take a look at QUAL's holdings in detail.