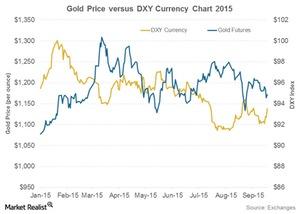 Four Straight Days of Loss on Gold as of November 3, 2015
Probable December hike
Gold was on a losing streak for the fourth straight day as of November 3, 2015. Gold futures on COMEX lost about 5.30% in these four consecutive days of decline. Now investors are waiting for further US economic data that will play a crucial role in the movement of interest rates, which many market players predict won't take the form of an increase until 2016.
However, markets have been pricing it according to the higher probability of a rate increase in December 2015, and thus the dollar has correspondingly gained. Higher interest rates should cause money to flow in the US, thus giving a push to the greenback. But a rising US dollar would likely cause dollar-denominated assets like gold and silver to fall as they are now more expensive for the foreign buyers.
Article continues below advertisement
FOMC decision
The World Gold Council commented that the short-term volatility in precious metals might disguise long-term trends. But demands from central banks in China, India, and Russia are still solid. A rise in demand in India is also expected as the Diwali festival approaches.
But a close watch of the jobs report coming up on November 6 should reveal a significant effect on the price of precious metals. This is because jobs data is a reliable indicator of the nation's health, and it is something watched closely by the FOMC (Federal Open Market Committee). Still, the decision of the Fed members is the most significant factor affecting the price of precious metals.
Tracking miners
Mining equities that may also be affected by the Fed's pending rate hike decision include stocks like Barrick Gold Corporation (ABX), Pan American Silver Corporation (PAAS), and Yamana Gold (AUY).
These three stocks together constitute 12.40% of the VanEck Vectors Gold Miners ETF (GDX). GDX itself and Sport Gold Miners ETF (SGDM) could also be substantially affected by changes in the precious metals prices. The four straight days of decline for gold have led to losses of 6.90% and 6.40%, respectively, for these two ETFs on a five-day trailing basis.