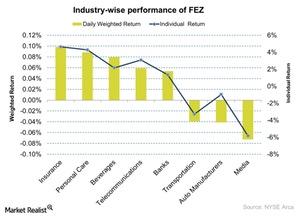 Why FEZ Gained Strength after Mario Draghi's Statement
By Sarah Sands

Updated
FEZ traded on a positive note
On November 11, the European Central Bank (or ECB) president Mario Draghi gave a statement at the Bank of England's open forum in London. He highlighted the importance of cross-border markets, saying that a free market depends on proper regulation.
According to his statement, cross-border markets are the main element of modern life. They help in higher integration of global finance and trade. In the case of the European Union, this principle favors efficient allocation of resources. The ECB and the Bank of England have decided to start a joint initiative to promote high-quality, transparent forms of securitization.
The SPDR Euro Stoxx 50 ETF (FEZ) is an important gauge of the European equity market. On November 11, the fund closed at $36.01, up by 0.28% from the previous trading session.
Article continues below advertisement
The insurance industry outperformed
The top five industries that contributed to FEZ's performance on November 11 were insurance, personal care, beverages, telecommunication, and banking. The bottom three industries that underperformed the ETF were transportation, auto manufacturers, and media. The insurance industry provided the highest weighted return of 0.09% and an individual return of 4.6%. The weighted return is calculated by multiplying the weight of the industry in the fund with the individual return of the industry. The above graph shows FEZ's performance according to industry on November 11.
Key stocks that drove FEZ's performance
Out of the 50 constituents of the fund, 36 stocks gave positive returns on November 11. The top three performing stocks were Anheuser-Busch (BUD), L'Oréal (LRLCY), and Axa. The reason behind the respective stock performances were as follows:
Anheuser-Busch provided a weighted return of 0.07%. The company announced that it will buy SABMiller for 69.8 billion British pounds.
L'Oréal contributed a weighted return of 0.05%. The company announced that it divided its cosmetics branch into four operating divisions, and that it will take part in strategic and marketing coordination of the L'Oréal group on a global basis.
Axa provided a weighted return of 0.04%, as it declared that it will acquire Charter Ping, an insurance corporation, which will help it to offer property and casualty insurance products.
FEZ invests in large capitalization stocks such as Sanofi (SNY), Total (TOT), Banco Santander (SAN), Siemens (SIEGY), and Anheuser Busch (BUD). These stocks make up 5.0%, 4.8%, 3.4%, 3.1%, and 3.6% of the FEZ portfolio, respectively.
In the next part of the article, we'll analyze how the ETF and its top performers performed with respect to their moving averages.