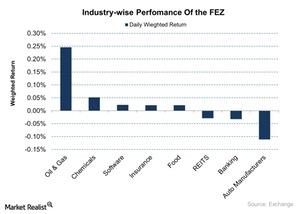 FEZ Closed at $36.93 on November 3, Down 0.32%
By Sarah Sands

Updated
FEZ fell on November 3
The SPDR Euro Stoxx 50 ETF (FEZ) is a US ETF that reflects the performance of the 50 largest companies in the Eurozone. On November 3, FEZ closed at $36.93, down by 0.32% from the previous trading session.
Article continues below advertisement
Industry-wise performance of FEZ
The top five industries that contributed to the performance of FEZ on November 3 were oil and gas, chemicals, software, insurance, and food. The bottom three industries that underperformed the ETF were REITS, banking, and auto manufacturers.
The oil and gas industry was the major contributor on November 3, as crude oil prices rallied ~3% that day due to the possible supply disruption in Brazil and Libya.
The above graph shows the industry-wise performance of FEZ on November 3, 2015.
Key stocks that drove FEZ's performance
Of the 50 constituents of the fund, 38 stocks had positive returns on November 3. The top three performing stocks were Total SA (TOT), Repsol, and Banco Santander (SAN). Below are the reasons behind the respective stock performances:
Total contributed the highest weighted return of 0.17% and an individual stock return of 3.6% when it declared its third-quarter earnings. In spite of the negative net profit, it beat market expectations with EPS (earnings per share) of $0.26. The company's business model played a major role by combining low oil prices through its refinery segment and hydrocarbon production.
Repsol contributed a weighted return of 0.05% and an individual stock return of 7.3%. The crude oil price rally provided a positive impact on the stock, and it rose by 7.3%.
Banco Santander contributed a weighted return of 0.04% and an individual return of ~1%. It announced a dividend of $0.43 per share, payable on November 23, 2015.
Weighted return refers to the return calculated by multiplying the weight of the stock in the ETF with the individual return of the stock.
FEZ invests in large capitalization stocks such as Sanofi (SNY), Total SA (TOT), Banco Santander (SAN), Siemens (SIEGY), and Anheuser-Busch Inbev (BUD). These stocks account for 5.0%, 4.8%, 3.4%, 3.1%, and 3.6% of the FEZ portfolio, respectively.
In the next part of this series, we'll see how FEZ and its top performers did with respect to their moving averages.