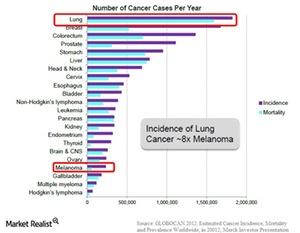 FDA Approves Eli Lilly's Portrazza Based on Squire Study
By Mike Benson

Updated
Portrazza approved for squamous NSCLC 
On November 24, 2015, Eli Lilly and Company (LLY) announced that the FDA has approved the drug Portrazza for a specific type of lung cancer. Portrazza is designed for intravenous use in combination with gemcitabine and cisplatin for the treatment of patients with metastatic squamous non-small cell lung cancer (or NSCLC). Portrazza is the first biologic to get approval as a first-line treatment for patients with metastatic squamous NSCLC.
According to the Eli Lilly's press release, NSCLC is the most common type of lung cancer, accounting for 85% of total lung cancer cases. Squamous NSCLC represents 30% of total lung cancer cases. Squamous NSCLC is a highly damaging form of cancer that is difficult to treat.
Article continues below advertisement
What is Portrazza?
According to the press release, Portrazza, or necitumumab, is a recombinant human IgG1 monoclonal antibody that blocks the ligand binding site of EGFR1 (epidermal growth factor receptor). EGFR is correlated with malignant progression and plays an important role in the formation and spread of tumors.
The approval of Portrazza was based on a phase III clinical study named SQUIRE, which is discussed further in the following parts of this series. Portrazza has also been granted orphan drug designation by the US FDA. Per the FDA, the orphan drug designation is granted to a drug used for the treatment of a rare disease or condition. The criteria for qualifying for orphan drug status are specified in the Orphan Drug Act by the FDA. Orphan drug designation entitles the drug developer to incentives such as tax credits for clinical trials.
Other drugs in the oncology field include Pfizer's (PFE) Inlyta and Sutent, Bristol-Myers Squibb's (BMY) Opdivo, Merck's (MRK) Keytruda, GlaxoSmithKline's (GSK) Mekinist and Tafinlar, and Roche's Zelboraf.
To diversify their risk, investors can consider ETFs such as the iShares US Healthcare Providers ETF (IHF) and the iShares US Pharmaceuticals ETF (IHE). IHE maintains ~6.2% of its total investments in Eli Lilly and Company.