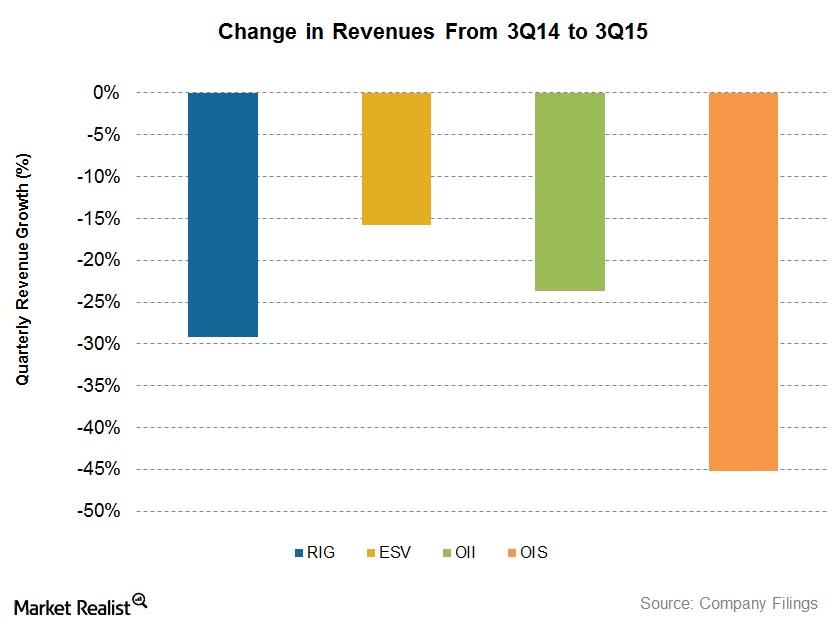 Did ESV Manage Revenue Decline Better than Others?
By Alex Chamberlin

Nov. 20 2015, Published 2:56 p.m. ET
Comparing revenue growth
Here, we'll discuss how our four oilfield service (or OFS) companies fared in terms of revenue growth last quarter.
All four of our select OFS companies, Transocean (RIG), Ensco (ESV), Oceaneering International (OII), and Oil States International (OIS), recorded 3Q15 revenue declines compared to the corresponding quarter last year.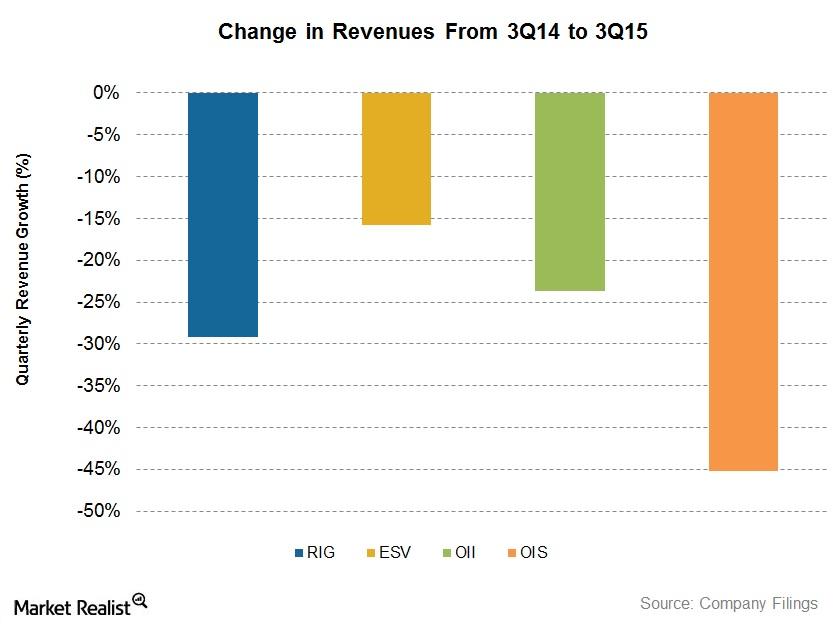 Article continues below advertisement
ESV was the holdout
Ensco registered the lowest revenue decline in the group. It recorded a 15.7% revenue fall in 3Q15 compared to the year-ago quarter. Its 3Q15 revenue was $1.0 billion versus $1.2 billion a year earlier. ESV's floaters segment revenues in 3Q15 fell 8% compared to 3Q14 while the jack-up segment's revenues fell 32% during the same period.
ESV's revenues fell due to lower rig utilization and lower average day rates. However, early contract termination payment received on one of its ultra-deepwater drillships boosted 3Q15 revenues by $146 million. ESV is 0.02% of the SPDR S&P 500 ETF (SPY).
The laggards
Oceaneering International's 3Q15 revenue fell ~24% to $743 million from $973 million a year ago. Revenues fell primarily on lower demand and pricing for most OII's oilfield services and products.
Transocean recorded a 29% revenue decline in 3Q15 compared to the year-ago quarter. Its 3Q15 revenue was $1.6 billion versus $2.3 billion a year earlier. Revenues decreased due primarily to lower fleet utilization and lower revenue efficiency. RIG's revenues from ultra-deepwater floaters, its highest revenue contributor, fell the most at 32% compared to a year ago. RIG makes up 0.03% of the SPDR S&P 500 ETF (SPY).
OIS was the most affected
Oil States International recorded a 45% 3Q15 revenue decline compared to the year-ago quarter. Its 3Q15 revenue was $258 million versus $471 million a year earlier. Revenues from OIS's well site services and offshore products segments fell by 63% and 29% in 3Q15 over 3Q14, respectively. In 3Q15, OIS's revenues were negatively impacted by the following:
lower rig count in North America
higher inventory of drilled but uncompleted wells
lower pricing for OIS's completion service products
lower drilling -elated product sales
We will look at the EPS growth figures of these companies in the following section.