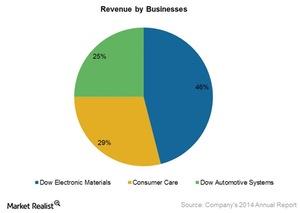 Why is Dow's Consumer Solutions Segment a High-Margin Business?
By Steve Ariel

Updated
Segment snapshot
The Dow Chemical Company's (DOW) Consumer Solutions segment provides customized materials for the electronics and entertainment, healthcare and medical, personal and home care goods, and automotive markets. In 2014, largely benefited by technology-driven chemistry and strong R&D (research and development), the segment posted an EBITDA (earnings before interest, tax, depreciation, and amortization) margin of 24.4%, whereas Dow's EBITDA margin was 15.4%. To enhance its competitiveness, Dow is exiting low-value businesses such as industrial and film-based applications. The Consumer Solutions segment's three businesses are Consumer Care, Dow Automotive Systems, and Dow Electronic Materials. Dow Electronic Materials and Consumer Care are the two major product groups for this segment, together accounting for 75% of the segment's revenue in 2014.
Article continues below advertisement
Business overview
Dow Electronic Materials – Dow offers a portfolio of materials for consumer electronics, electronic devices, and displays. Dow is a global leader for CMP (chemical mechanical planarization), a key technology used for manufacturing semiconductor wafers. This segment also provides interconnect technologies for printed circuit boards and materials for electronic displays.
Consumer Care – Consumer Care's three major product groups are Dow Home, Institutional and Personal Care Solutions, Dow Pharma & Food Solutions, and SAFECHEM. Dow Home, Institutional and Personal Care Solutions include polymers, emollients, chelants, and dispersants, primarily for the personal care and home care markets. Dow Pharma & Food Solutions focus on cellulosic technologies, solubility enhancers, reagents, and coatings. SAFECHEM provides cleaning solutions, equipment, and services for metal and dry cleaning applications.
Dow Automotive Systems – Dow is a global supplier of collaborative solutions and advanced materials for automotive markets. Key products include elastic adhesives, composite materials technologies, polyurethane, foams, acoustics management systems, films, and fluids.
Dow's major peers in the consumer solutions market include Ashland (ASH), BASF, Bayer, JSR Micro, 3M (MMM), LyondellBasell Industries (LYB), and Shin-Etsu Chemical.
The iShares US Basic Materials ETF (IYM) primarily invests in US-based basic material companies, including chemical players. LyondellBasell Industries forms 6.5% of XLB's total holdings.