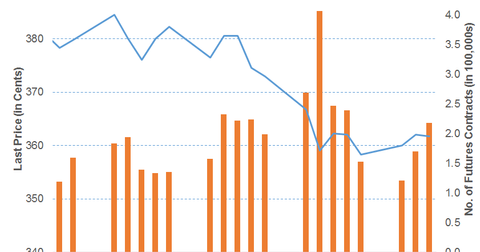 Could Domestic Demand Help Corn Prices Rise?
By Sean Brown

Updated
Corn prices fell
December corn futures contracts trading on the CBOT (Chicago Board of Trade) fell slightly by 0.07% and settled at $3.61 per bushel on November 18, 2015. Corn futures prices fell due to favorable weather conditions in Brazil. ETFs like the Teucrium Corn Fund (CORN) remained unchanged at $21.77 on November 18, 2015.
The weather in the Midwest region in the US is projected to be dry for more than a week. There was rain at the beginning of the week on November 15, 2015. The dry weather might support corn harvest activities during the last half of the week. The harvest extended due to unfavorable weather hindering the work in the fields. The weather in Brazil's Mato Grosso is still trailing due to dry weather concerns. However, the production consensus has been strengthening. The steady sentiments support the supply. The sentiments pushed the corn futures prices down slightly on November 18, 2015.
Article continues below advertisement
The EIA's (Energy Information Administration) Weekly Ethanol Production report released on November 18, 2015. The weekly production of ethanol fell by 7,000 bpd (barrels per day) from last week. It reached 975,000 bpd. The ethanol stock rose by 395,000 barrels to 19.3 MMbbls (million barrels). It would drag the corn prices down. Higher stocks could reduce the additional demand.
The export demand is lower than analysts' projections. The US CFTC (Commodities Futures Trading Commission) reported bearish bets against the agricultural commodities. This dragged corn futures prices down by 5.5% on November 1, 2015. However, it didn't result in the anticipated rise in the demand for corn. The domestic demand supported corn prices. However, there may not be a definite answer about how long it could save the day for corn over a vast inventory.
Stocks discussion
The shares of CHS (CHSCP) and Archer Daniels Midland (ADM) rose slightly by 0.24% and 0.56%, respectively, on November 18, 2015. The prices of Ingredion (INGR) and Tyson Foods (TSN) rose by 1.3% and 2.6% on November 18, 2015. ETFs like the Power Shares DB Agriculture Fund ETF (DBA) fell slightly by 0.25% on November 18, 2015.