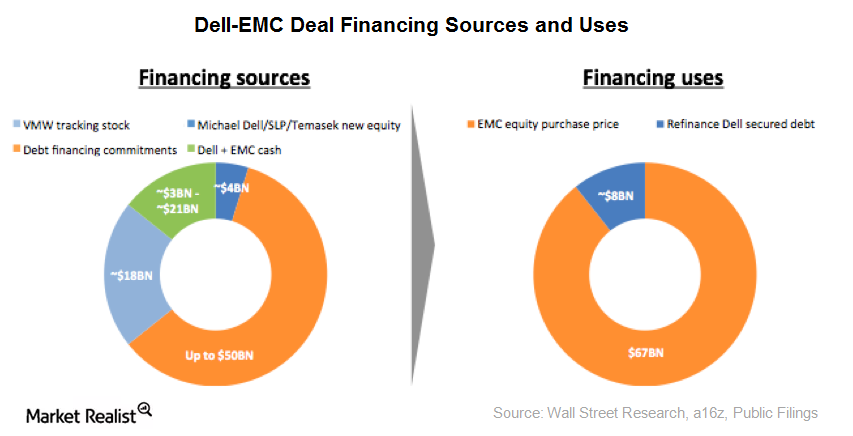 Why Dell Offered Tracking Stock to Fund the EMC Acquisition
By Anne Shields

Nov. 19 2015, Updated 9:06 a.m. ET
Tracking stocks reduce the debt and tax liability of the acquiring company
Previously in this series, we noted that Dell could be saddled with a hefty tax bill due to the tracking stock it issued to finance the acquisition of EMC (EMC) and VMware (VMW). With $4.25 billion on its books, Dell was not left with much choice other than to take on ~$50 billion in debt to finance a $67 billion deal. As part of this deal, Dell offered tracking stock worth $9.10 per share. Tracking stock tracks the share price in VMware in relation to EMC's shares in VMware.
Article continues below advertisement
Dell utilized the tracking stock mechanism to offset the debt liability it would have to take on. It was also intended to reduce Dell's tax liability. However, as the new shares are linked to VMware, EMC's subsidiary, there is a strong chance that this could be considered taxable in the eyes of the Internal Revenue Service, which we discussed in Part 2 of this series.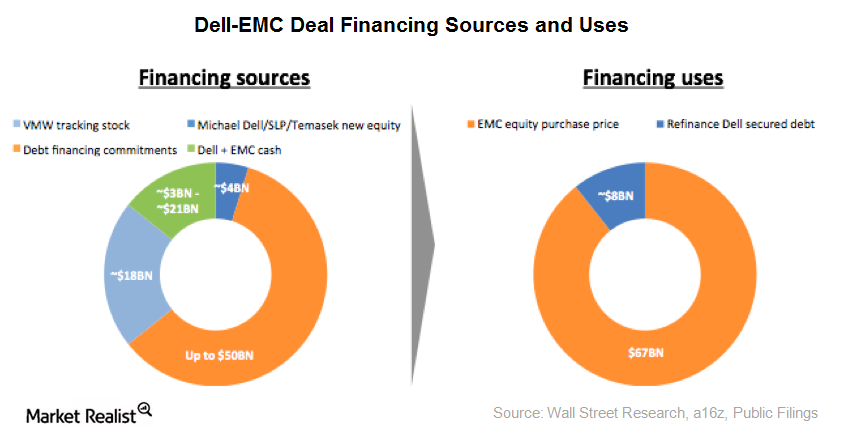 What led to the popularity of tracking stocks?
Tracking stocks are popular financial devices as they enable the company's shareholders to put funds in the performance of a particular business unit of a publicly traded company. This applies to EMC, since the parent does not have to give up ownership or voting control. In the case of the Dell–EMC deal, VMware functions as the business unit, and EMC is the parent company that owns an 80% stake in VMware.
Usually, acquiring companies prefer tracking stocks when they cannot pay for the acquisition in cash. They often issue stock to pay for part of the acquisition price. Dell has strategically chosen to stay away from the public stock market, and it cannot issue public stock.
Plan B
If the Dell–EMC deal does not go through, it would be a relatively good news for Cisco Systems (CSCO), IBM (IBM), and the Hewlett-Packard Company (HPQ). These competitors would otherwise have been forced to revise their strategies in order to gain momentum in the enterprise computing space.
You can consider investing in the iShares Dow Jones US Technology ETF (IYW) to gain exposure to EMC, which comprises about 1.44% of IYW's portfolio.