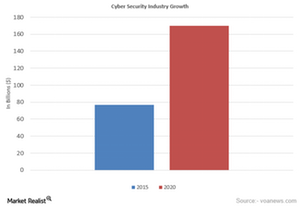 Cybersecurity to Grow by 121% in the Next Five Years
By Parker Thomas

Updated
Cyberattacks give rise to online breaches
Organizations are taking several measures to mitigate the risk of cyberthreats by adopting risk management frameworks that combine hardware, software, and operations protocol. Cybersecurity is growing at a fast pace. The industry is expected to grow from $77 billion in 2015 to $170 billion in 2020, according to research conducted by MarketsandMarkets. Moreover, it is expected to grow 121% globally in the next five years.
Article continues below advertisement
Increasing usage of technology to transform business processes allows cybercriminals to conduct illegal activities with siphoned data. The cost of online breaches is increasing year by year. The Center for Strategic and International Studies, a research group in Washington, says that cybercrime costs the global economy $445 billion each year, of which the United States, China, Japan, and Germany constituted $200 billion in 2014.
Hiring cyber professionals is getting more challenging
The Darwin Deason Institute for Cyber Security conducted a study, sponsored by IBM Security, on cybersecurity investments made by companies across different sectors, including the financial, healthcare, and government sectors. According to the report, 46% of respondents believe that organizations are spending the right amount on cybersecurity, and 64% reported that they are spending more in comparison to their peer group. Most of the respondents reported that finding and hiring the security personnel for deploying cybersecurity is more challenging than getting the funding for it. The lack of qualified cyber professionals will result in enterprises deferring implementation of the right security measures at the right time.
"Companies are realizing that simply checking the box for compliance requirements is no longer a sufficient security strategy. Hackers are becoming increasingly sophisticated in the battle for corporate data, and the survey results show that companies are evolving their security to keep pace," said Bob Kalka, vice president of IBM Security.
The PureFunds ISE Cyber Security ETF (HACK) is a portfolio of 32 stocks. Check Point Software Technologies (CHKP), Fortinet (FTNT), Proofpoint (PFPT), and Cisco Systems (CSCO) constitute 4.1%, 5.0%, 3.9%, and 4.3%, respectively, of the ETF.