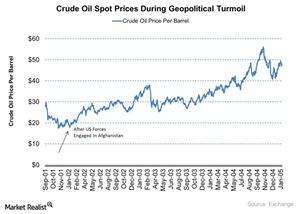 Russia's Downed Jet: A Game-Changer for Commodity Sentiment?
By Rabindra Samanta

Updated
Oil prices under geopolitical tension
War has a strange effect on oil and commodities. It can change prolonged negative sentiment in the blink of an eye. The risk of short squeezes across commodity markets has risen substantially, but on top of that rise, geopolitical risk has reared its ugly head again. Geopolitical risk is the wild card in commodity prices. It's unpredictable—maybe to some people, anyway. It's not farfetched to believe that Putin may have won on two fronts while losing only one plane over Turkey. The first advantage is that it gives him the political ammunition to escalate his presence in the Middle East. Second, Putin wants higher oil prices. As John McCain has stated, "Russia is a gas station masquerading as a country." Escalation is a major price driver.
Article continues below advertisement
There's a strong precedent to the connection between oil and war. During the first Gulf War, crude oil prices rose 77% to a high of $41 per barrel from the levels prior to the war. After the New York attack of September 11, 2001, oil prices plunged at first. But as the United States waged war to eliminate the Taliban in Afghanistan, crude oil prices rose. Geopolitical unrest in the Middle East has always led to higher crude oil prices. Today, Turkey shooting down the Russian fighter jet has set the equation. The graph below explains the rise in crude oil prices after the attacks of September 11, 2001.
Russian economy
According to Russia's state statistics, in 2014, mining energy-producing minerals attracted 16.7% of the total fixed capital investment in the country. As per the EIA, in 2013, crude oil constituted 68% of total exports and 16.4% of GDP. Europe and Asia account for 98% of Russia's crude exports. Russia's main trading partners are Germany and China. In 2014, Russia exported 4.7 million barrels per day (b/d) of crude oil and lease condensate.
The Russian economy highly correlates to oil prices. Experts have observed that, when crude oil prices plunge, the Russian economy contracts. The graph below illustrates Russian GDP growth year-over-year and Brent crude oil price over the last ten years.
Russian energy companies' year-to-date performance