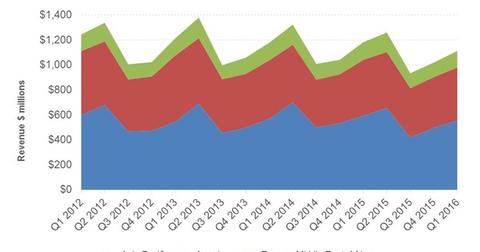 Coty Explores Strategic Opportunities by Moving Its Headquarters
By Phalguni Soni

Updated
On November 3, 2015, Coty (COTY) announced several changes to its organizational and reporting structures. Following its merger with Procter & Gamble's (PG) beauty brands, Coty's business will be re-organized into three lines of business:
Coty Luxury Division, which will include fragrances and skincare
Coty Consumer Beauty Division, which will include color cosmetics, retail hair coloring and styling products, and body care
Coty Professional Beauty Division, which will focus on providing hair and nail care servicing for salons and other professional customers
Article continues below advertisement
Organization structure
Each of these divisions would be headed by a president and overseen in turn by an executive team. The executive team would consist of three presidents, functional heads, and the chief executive officer. The team would determine corporate strategy, including exploring other merger and acquisition opportunities in the future.
Headquarters shift
Coty also announced a major move of its executive management offices. Although the company will continue to be incorporated in Delaware and listed on the New York Stock Exchange, it plans to move its corporate headquarters to London, England, after the transaction with P&G is complete.
This move will allow Coty to be located closer to its key strategic markets around the world, which may make sense considering Coty derived over 60% of its sales from outside the Americas in fiscal 2015.
UK-based peer Unilever (UN) (UL) is also headquartered in London. Procter & Gamble and Unilever together constitute 0.83% of the portfolio holdings in the iShares MSCI ACWI ETF (ACWI).
COTY also announced major changes in its digital initiatives over the past month, including the acquisition of digital marketing platform Beamly. We'll discuss this in the next article.