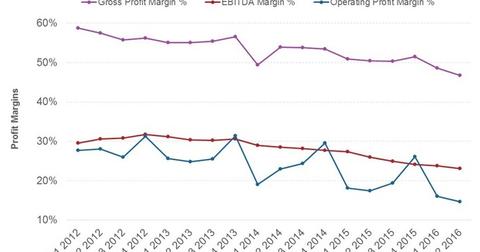 Can Lululemon Boost Its Products through Management Changes?
By Phalguni Soni

Dec. 4 2020, Updated 10:50 a.m. ET
Changes in design function
In October and November, Lululemon Athletica announced several top-level management changes. On October 21, Lululemon Athletica announced the appointment of Lee Holman as the company's creative director, with immediate effect. Holman's previous role was senior vice president of women's products at LULU. Previously, Holman held the position of creative director of Nike (NKE) sportswear and creative director of British luxury goods (XLY) brand Burberry (BURBY) (BRBY.L). Mr. Holman's new role will encompass product design for both women's and men's products.
Article continues below advertisement
According to Lululemon's chief executive officer, Laurent Potdevin, "Standing out requires a fierce commitment to constant innovation in functional performance. Our unwavering dedication to a singular design vision and craftsmanship has made us the global market leader in the category we've created and continue to define. Changes to the organizational structure, including the new role of Creative Director, are critical to executing upon our 10-year vision."
LULU also announced it was "eliminating the position of chief product officer" due to these changes. Tara Poseley, the chief product officer since October 2013, would be leaving after a transition period.
Research and development focus
Lululemon also announced that Dr. Tom Waller had been promoted to senior vice president, Whitespace. Whitespace is LULU's R&D and innovation lab. Lululemon has been expanding the capabilities of Whitespace at its headquarters in Vancouver, enabling the company bring forth innovative designs and fabrics to the market.
LULU has also expanded the role of Stuart Haselden, its chief financial officer or CFO. Mr. Haseldon is now also taking on the role of executive vice president, operations. LULU's also looking to add the position of a chief supply officer, to continue with its goal of enhancing supply chain productivity and improve margins.
On November 17, Lululemon announced the appointment of Gina Warren as executive vice president, culture and talent. She'll be responsible for "all people practices including health and wealth, recruitment, and learning and development for all retail and support functions," according to the company. Ms. Warren's previously worked as head of Nike's (NKE) Global Diversity & Inclusion team from 2002 to 2014. Her appointment is effective February 1, 2016.
Recently, Under Armour (UA) also announced management changes. The company's chief financial officer and chief operating officer Brad Dickerson was leaving in the beginning of 2016 to join as CFO at Blue Apron.
For more sector updates and analysis, visit our Consumer Discretionary & Retail page.