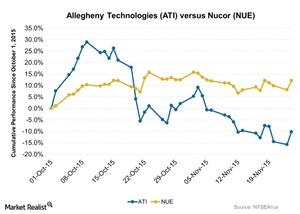 Consumer Confidence Is at Its Weakest since September 2014
By Renee Blakely

Updated
Economic front
The consumer confidence level for November 2015 came in at 90.4, below the consensus estimate of 99.6, according to the report released by the Conference Board. The November reading is far below expectations as well as below the prior reading of 99.1. It's the lowest reading since September 2014, and the weakness in the report shows a lack of confidence in consumers' perceptions of the job market. This affects the spending habits of consumers. In this way, it also affects the retail sales and travel industries.
Article continues below advertisement
Thus, the consumer discretionary sector is affected not only due to a sudden hit to the travel and tourism industry after the attacks in Paris, but also due to consumer spending habits. Rising fuel costs are also anticipated to impact consumer spending. The Consumer Discretionary Select Sector SPDR ETF (XLY) fell 0.2% on November 24, 2015.
On the other hand, the gross domestic product (or GDP) report for the third quarter 2015, released by the U.S. Commerce Department, met expectations. GDP came in at a 2.1% rise compared to the prior reading of 1.5%. The report buoyed the material sector, and all the precious and industrial metals showed an upward trend along with their respective mining companies' stocks.
Materials
The graph above compares the stock price performances of steel producers Allegheny Technologies (ATI) and Nucor (NUE) since October 2015.
Nucor and Allegheny Technologies have betas of 1.15 and 1.49, respectively. This implies that both stocks are volatile to the broad market movement, but ATI is more sensitive to the market's movement than NUE.
NUE traded at $42.16 and crossed its 100-day, 50-day, and 20-day moving averages on November 24, 2015. Its 100-day, 50-day, and 20-day moving averages are $42, $41, and $42, respectively, indicating an upward trend.
The analyst stock price target for NUE is set at $50.19, showing an upward potential for the stock. It has earned 11 "buy," eight "hold, " and no "sell" recommendations. Standard & Poor's has rated the stock an "A-" with a "stable" outlook.
Other material stocks to gain on November 24 were Newmont Mining (NEM), Freeport-McMoran (FCX), and Alcoa (AA). These stocks gained 2.5%, 3.8%, and 0.2%, respectively, on the day. NUE and ATI gained 3.7% and 6.6%, respectively, on the day.
Let's look at the top and bottom stocks of the SPDR S&P 500 ETF (SPY) as of November 24, 2015.